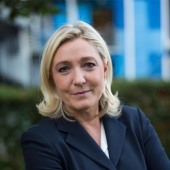 Marine Le Pen
age: 49 years

Europe of Nations and Freedom

France

Former MEP
Related to
Ranking among leaders of her/his own ...
Leader's Positon on Wholeads' Map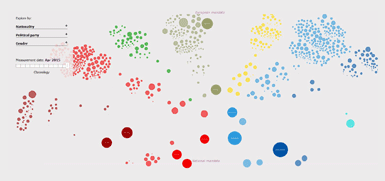 Click the image to identify a leader's position on Map
9.96
/10

9.97
/10

9.94
/10

% OF ALL SEARCHES/ MENTIONS
3.6393

Click on tabs to turn off individual graphs
Click to come back and forth on graph
Latest news about a leader
An anti-European European parliament
Monday, April 02, 2018 06:13:00 PM
Europe seems little alarmed before the – very real – possibility of having an anti-European parliament within a year. Up to now, it had been purely incidental that Eurosceptics such as Nigel Farage or Marine Le Pen occupied seats in the European parliament.
'Arrogant' EU trade bloc to COLLAPSE like Soviet Union after Brexit warns academic
Monday, April 02, 2018 10:50:00 AM
"Since the turn of the century things have been steadily falling apart." Since the UK voted for Brexit in June 2016, a number of other EU states have demanded reform to the trade bloc, threatening to otherwise follow in the UK's footsteps. In 2017 France nearly elected the Eurosceptic Marine Le Pen....
Planning for president Le Pen
Friday, March 30, 2018 01:45:00 AM
After the United Kingdom's unexpected vote to leave the European Union and Donald Trump's unexpected triumph in the US presidential election last year, you might imagine that Europe's chancelleries have developed detailed contingency plans for a victory by the far-right National Front's Marine Le Pen in France's presidential election.
Creative Destruction: Macron Eyes Expanding His Movement Across Europe
Wednesday, March 14, 2018 02:20:00 PM
Indeed, it has already become clear that the French president's first appearance in front of the European Parliament will be anything but a cakewalk. The man who saved Europe from Marine Le Pen must now prepare himself for a frosty reception in Strasbourg.
Tweets