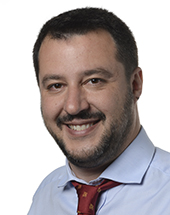 Matteo Salvini
age: 46 years

Europe of Nations and Freedom

Italy

Member of the European Parliament
Related to
Ranking among leaders of her/his own ...
Leader's Positon on Wholeads' Map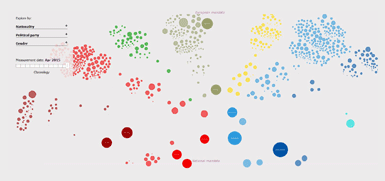 Click the image to identify a leader's position on Map
9.15
/10

9.25
/10

9.02
/10

% OF ALL SEARCHES/ MENTIONS
0.1151

Click on tabs to turn off individual graphs
Click to come back and forth on graph
Latest news about a leader
In Matteo Salvini's Italy, Good Is Bad and 'Do-Gooders' Are the Worst
Saturday, April 13, 2019 04:47:00 PM
ROME — The Italian language does not want for colorful insults. There are curses upon a person's dead relatives, ample anatomical exclamations and countless ways to call someone a moron. But these days, it seems, one of the biggest put-downs of all is to call someone a do-gooder.
Libyans fleeing conflict risk repatriation by Italy's populist government
Friday, April 12, 2019 02:39:00 PM
Seventy migrants were rescued by the Italian coastguard on Thursday and brought to the island of Lampedusa, from which populist Interior Minister Matteo Salvini says they will be repatriated. "We are working to expel the 70 illegal migrants who have arrived at Lampedusa in the next few hours," Mr Salvini said.
EUObserver: Russia divides Europe's eurosceptic parties
Wednesday, April 10, 2019 01:43:00 PM
Divisions on how to handle Russia's "neo-imperial appetite", among other factors, are set to block Italian far-right deputy prime minister Matteo Salvini's ambitions to spearhead a new European Parliament league, Jan Zahradil, a leading Czech MEP and candidate for EU Commission president has said.
Tweets
AlliansensGräsrötter retweeted
Sun Apr 21 00:21:40 +0000 2019
The populist coalition dubbed the European Alliance of Peoples and Nations (EAPN), spearheaded by Italy's Matteo Salvini, has g…
Sun Apr 21 00:20:06 +0000 2019
https://t.co/Fgu3k9CA8S

Sun Apr 21 00:17:52 +0000 2019
Avete finito di mangiare...ora non conviene più https://t.co/d8g6QcyBUu