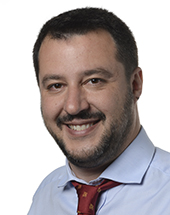 Matteo Salvini
age: 47 years

Europe of Nations and Freedom

Italy

Member of the European Parliament
Related to
Ranking among leaders of her/his own ...
Leader's Positon on Wholeads' Map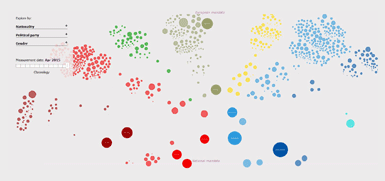 Click the image to identify a leader's position on Map
9.15
/10

9.25
/10

9.02
/10

% OF ALL SEARCHES/ MENTIONS
0.1151

Click on tabs to turn off individual graphs
Click to come back and forth on graph
Latest news about a leader
Salvini's Party Loses Important Regional Election
Saturday, February 22, 2020 07:09:00 PM
Italy's opposition leader Matteo Salvini did not succeed in hoping to beat the government parties in a crucial regional election. However, his opponents cannot breathe a sigh of relief, either. Salvini has suffered a defeat in an important regional election in Italy with his right-wing populist Lega.
EU to crash: Italy MEP claims Italexit is NOT needed because the EU will just implode ITALIAN MEP Antonio Maria Rinaldi told Express.co.uk that his party, Lega, will not...
Thursday, February 06, 2020 05:19:00 PM
In an interview with Express.co.uk, though, Italian MEP Antonio Maria Rinaldi claimed that his eurosceptic party, Lega, headed by former Deputy Minister Matteo Salvini, will not push for an "Italexit". Mr Rinaldi explained that there is no need for it, as the EU will implode way before that becomes a possibility.
Matteo Salvini, Italy's populist strongman
Monday, January 27, 2020 04:04:00 PM
, with 80% of the young, whom Renzi claimed to represent, voting against it. Among the winners was Salvini, who had campaigned vigorously against the proposal. To achieve national prominence, Salvini needed a new electoral strategy and new political technology.
Italy's Dangerous Budget Showdown With Europe
Sunday, January 12, 2020 10:43:00 PM
In late October, Italy's populist government finally got its . In September, Italy's powerful deputy prime ministers , Lega leader Matteo Salvini and Five Star Movement leader Luigi Di Maio, agreed on a draft budget calling for tax cuts and a minimum income for the unemployed, both of which would....
Tweets
Sorry, no tweets available for this leader