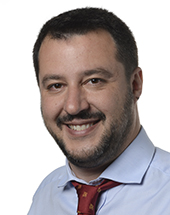 Matteo Salvini
age: 46 years

Europe of Nations and Freedom

Italy

Member of the European Parliament
Related to
Ranking among leaders of her/his own ...
Leader's Positon on Wholeads' Map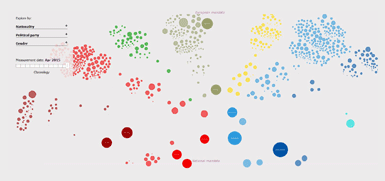 Click the image to identify a leader's position on Map
9.15
/10

9.25
/10

9.02
/10

% OF ALL SEARCHES/ MENTIONS
0.1151

Click on tabs to turn off individual graphs
Click to come back and forth on graph
Latest news about a leader
Second day of Italy crisis talks after PM resigns
Thursday, August 22, 2019 07:12:00 AM
Prime Minister Giuseppe Conte resigned on Tuesday after months of alliance sniping and a bid by League leader and Interior Minister Matteo Salvini to force a snap election, just 14 months since coming to power. The nationalist, populist government's demonisation of migrants, promoted by Salvini in....
Italy needs a General Election
Thursday, August 22, 2019 04:17:00 AM
The Italian prime minister Giuseppe Conte resigned this week. He announced his resignation ahead of a proposed vote of no confidence in the government. That vote was called for on 8 August, by Matteo Salvini, the deputy prime minister and leader of the League.
Italy's Prime Minister Resigns – Next Steps Unclear
Wednesday, August 21, 2019 10:27:00 PM
Yesterday, Italian Prime Minister Giuseppe Conte resigned . His move pre-empted a no confidence vote in the Government that was called by the far-right, anti-immigration League Party, headed by Deputy Prime Minister Matteo Salvini. Conte blamed Salvini for undermining the coalition government—just....
Italy's political crisis: The...
Wednesday, August 21, 2019 06:29:00 PM
Conte handed in his resignation after lashing out at far-right Interior Minister Matteo Salvini for pursuing his own interests by pulling the plug on the ruling coalition with the anti-establishment Five Star Movement (M5S) Italian President Sergio Mattarella begins talks with key players on....
Tweets
Sorry, no tweets available for this leader