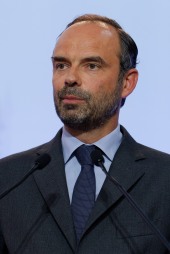 Edouard Philippe
age: 48 years

European People's Party

France

Prime Minister of France
Related to
Ranking among leaders of her/his own ...
Leader's Positon on Wholeads' Map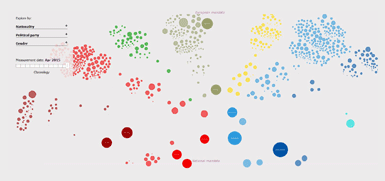 Click the image to identify a leader's position on Map
9.40
/10

9.51
/10

9.34
/10

% OF ALL SEARCHES/ MENTIONS
0.2141

Click on tabs to turn off individual graphs
Click to come back and forth on graph
Latest news about a leader
Macron's concessions set to blow out French deficit
Tuesday, December 11, 2018 08:44:00 PM
France's President Emmanuel Macron, France's Prime Minister Edouard Philippe and France's Finance Minister Bruno Le Maire attend a meeting with the representatives of the banking sector at the Elysee Palace in Paris, France, December 11, 2018. Thibault Camus/Pool via REUTERS. December 11, 2018. By Leigh Thomas.
France mulls response to Yellow Vest protests, students blockade schools
Monday, December 03, 2018 11:37:00 PM
French Prime Minister Edouard Philippe met with opposition leaders Monday to discuss the increasingly intense and violent Yellow Vest protests as students blocked schools across the country in a new twist to the unrest. Philippe is due to unveil measures to address the situation on Wednesday at the National Assembly, Agence France-Presse reported.
Tweets

Leblanc Matricule 102 retweeted
Wed Dec 19 05:02:04 +0000 2018
Si Macron n'a pas d'argent pour les Français, Edouard Philippe donne près de 100 millions d'Euros pour les Palestiniens…
lespiedssurterre retweeted
Wed Dec 19 04:58:12 +0000 2018
🔴ALERTE FOUTAGE DE GUEULE! Le Figaro vient d'annoncer que le gouvernement renonce à plusieurs mesures annoncées par Édou…

🇫🇷(((arielnana)))🇮🇱 retweeted
Wed Dec 19 04:55:37 +0000 2018
Si Macron n'a pas d'argent pour les Français, Edouard Philippe donne près de 100 millions d'Euros pour les Palestiniens…