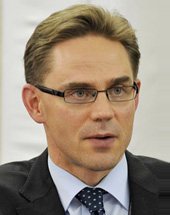 Jyrki Katainen
age: 47 years

European People's Party

Finland

EC Commissioner - Vice-President (Jobs - Growth - Investment and Competitiveness)
Related to
Ranking among leaders of her/his own ...
Leader's Positon on Wholeads' Map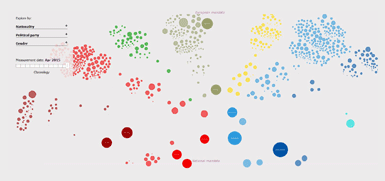 Click the image to identify a leader's position on Map
9.60
/10

9.48
/10

9.71
/10

% OF ALL SEARCHES/ MENTIONS
0.4669

Click on tabs to turn off individual graphs
Click to come back and forth on graph
Latest news about a leader
Daily News 15 / 11 / 2018
Thursday, November 15, 2018 01:29:00 PM
, and EaSI , the European Programme for Employment and Social Innovation. Vice-President Jyrki Katainen , responsible for Jobs, Growth, Investment and Competitiveness said:" With these new agreements, thousands of Finnish entrepreneurs will get better access to the funding they need to turn their ideas into concrete projects.
Commission confirms: no Katainen lobbying minutes
Wednesday, November 07, 2018 06:16:00 PM
The European Commission has told EUobserver that after a "renewed, thorough search" for minutes or any other records of seven meetings commission vice-president Jyrki Katainen held with lobbyists, it found no such documents. Last month, the lack of written records came to light after EUobserver....
Lithuania should use InvestEU opportunities
Monday, November 05, 2018 10:14:00 AM
EC Vice President Jyrki Katainen says the purpose of the InvestEU, set to be launched in 2021, is not to replace the reduced structural support but Lithuania could expect positive returns if it decides to invest into it. "This financial instrument may not compensate the reduction, … it's not the real purpose of this instrument.
EU enlists Japan to help establish AI safeguards
Tuesday, October 30, 2018 09:11:00 AM
TOKYO -- The European Union is seeking Japan's cooperation on setting rules for artificial intelligence, potentially covering everything from privacy to preventing the creation of killer robots, European Commission Vice President Jyrki Katainen told Nikkei in an exclusive interview.
US tariffs plan for car imports rankles EU, Japan, China
Friday, October 26, 2018 04:55:00 PM
European Commission Vice President Jyrki Katainen warned Washington Thursday that it would violate World Trade Organization (WTO) rules if tariff jumps on imported cars resulted from a probe by the US Commerce Department. The Wall Street Journal said vehicle import tariffs as high as 25 percent were....
Tweets