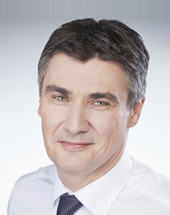 Zoran Milanovic
age: 53 years

Party of European Socialists

Croatia

Former Prime Minister of Croatia
Related to
Ranking among leaders of her/his own ...
Leader's Positon on Wholeads' Map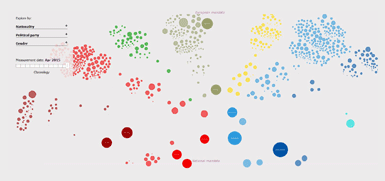 Click the image to identify a leader's position on Map
7.98
/10

7.45
/10

8.10
/10

% OF ALL SEARCHES/ MENTIONS
0.0252

Click on tabs to turn off individual graphs
Click to come back and forth on graph
Latest news about a leader
Croatia is a crucible of hyper-nationalism
Friday, March 06, 2020 06:17:00 PM
Earlier this year, Croatians elected former Prime Minister Zoran Milanovic, a Social Democrat, as their president. The victory of Milanovic, who ran on a promise to make Croatia a more tolerant country and turn the page on its wartime past, was seen by many as a sign that the country was moving away....
Milanović Meets with Slovenia President Pahor
Friday, February 28, 2020 11:40:00 AM
ZAGREB, February 28, 2020 - International law is the basis for solving the Croatian-Slovenian border dispute, on which the European Commission and the European Court of Justice have taken positions, Croatian President Zoran Milanović said on Thursday after talks with Slovenian President Borut Pahor.
REGEA Director Julije Domac to advise new Croatian president on energy, climate
Monday, February 24, 2020 03:10:00 PM
Julije Domac, Director of the North-West Croatia Regional Energy Agency (REGEA), became the special adviser on energy and climate to new Croatian President Zoran Milanović. He is also the president of the European Federation of Agencies and Regions for Energy and the Environment – FEDARENE from 2013.
Challenges and opportunities for Croatia's new president
Wednesday, February 19, 2020 04:09:00 PM
Croatia's new president Zoran Milanovic entered office on February 18 with a legacy to build upon and several challenges to overcome. Over the last fifteen years, Croatia has made remarkable progress as a democratic state, joining NATO in 2009 and the European Union (EU) in 2013.
Grabar-Kitarović Defends Three Seas Initiative
Wednesday, January 22, 2020 03:46:00 PM
ZAGREB, January 22, 2020 - Outgoing Croatian President Kolinda Grabar-Kitarović said on Wednesday that the Three Seas Initiative, as one of the most important initiatives in Europe and the European Union, was important for Croatia, calling on her successor, Zoran Milanović, to support Croatia's participation in it.
Tweets
Sorry, no tweets available for this leader