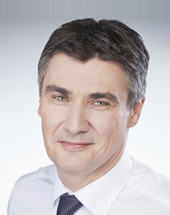 Zoran Milanovic
age: 53 years

Party of European Socialists

Croatia

Former Prime Minister of Croatia
Related to
Ranking among leaders of her/his own ...
Leader's Positon on Wholeads' Map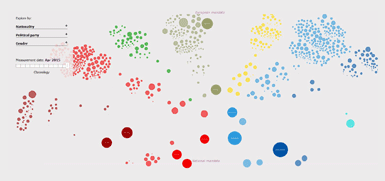 Click the image to identify a leader's position on Map
7.98
/10

7.45
/10

8.10
/10

% OF ALL SEARCHES/ MENTIONS
0.0252

Click on tabs to turn off individual graphs
Click to come back and forth on graph
Latest news about a leader
Grabar-Kitarović Defends Three Seas Initiative
Wednesday, January 22, 2020 03:46:00 PM
ZAGREB, January 22, 2020 - Outgoing Croatian President Kolinda Grabar-Kitarović said on Wednesday that the Three Seas Initiative, as one of the most important initiatives in Europe and the European Union, was important for Croatia, calling on her successor, Zoran Milanović, to support Croatia's participation in it.
'Croatia will continue to turn back migrants at the border'
Monday, January 13, 2020 02:32:00 PM
Zoran Milanovic, the social democrat who to everyone's surprise was elected president of Croatia on Sunday, January 5, advocates a return to a "normal Croatia" as opposed to the "genuine" and nationalist Croatia championed by outgoing conservative president Kolinda Grabar-Kitarovic.
Messy start: Croatia to elect new leader amid EU presidency
Friday, January 03, 2020 11:22:00 AM
Incumbent President Kolinda Grabar Kitarovic from the governing conservative party is facing leftist former Prime Minister Zoran Milanovic in what analysts say could be a highly unpredictable and tight vote on Sunday. The two made it into the runoff following the first round of voting on Dec. 22.
Zoran Milanović: Croatia Has a Heart, but a Brain too
Saturday, December 21, 2019 08:47:00 AM
Until 15:00 Central European Time on September 18th, 15 400 refugees had entered Croatia. The euphoria of the first day when only 500 people a day were expected is long gone. Tension came in its place. The country has not yet lost its humanitarian outlook but does not wish to become a hotspot of the EU.
Zagreb Got a Good Assessment from the Outside but Challenges Lie Ahead
Saturday, December 21, 2019 08:47:00 AM
Last week brought a lot of good news for the government of Zoran Milanovic who desperately needed them because of the tough economic situation of Croatia, enhanced additionally by the biggest drought in decades. The first swallow to bring good news was the decision of the Fitch credit rating agency....
Tweets
Sorry, no tweets available for this leader