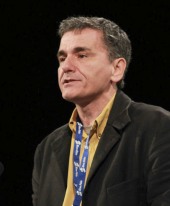 Euclid Tsakalotos
age: 58 years
European United Left–Nordic Green Left

Greece

Minister of Finance of Greece
Related to
Ranking among leaders of her/his own ...
Leader's Positon on Wholeads' Map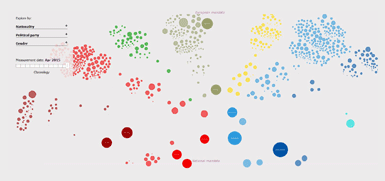 Click the image to identify a leader's position on Map
8.99
/10

8.22
/10

9.13
/10

% OF ALL SEARCHES/ MENTIONS
0.0785

Click on tabs to turn off individual graphs
Click to come back and forth on graph
Latest news about a leader
Greece and EU creditors reach agreement on fourth bailout review
Sunday, May 20, 2018 09:55:00 AM
Greece and representatives from its creditors have reached an initial technical agreement on the country's reform progress under its fourth and final bailout review after a week of marathon sessions that was capped by a statement late on May 19 by Greek Finance Minister Euclid Tsakalotos who declared, "The staff-level agreement is closed.
Tsakalotos cuts expectations within ruling party
Thursday, May 03, 2018 11:26:00 PM
TAGS: Finance Finance Minister Euclid Tsakalotos poured cold water on Thursday on governing party officials' high expectations for a post-program emancipation from obligations such as reducing pensions as of January 2019 and achieving high primary surpluses of 3.
Tsakalotos presents plan to Eurogroup
Saturday, April 28, 2018 12:07:00 AM
Greek Finance Minister Euclid Tsakalotos will present the Greek development plan for the period after the memoranda to his counterparts at the informal Eurogroup held in Sofia on Friday. According to the minister, the development plan will include, among others, actions for the faster administration....
Positive atmosphere for debt relief
Friday, April 20, 2018 08:41:00 PM
In the following days, Finance Minister Euclid Tsakalotos and alternate Finance Minister George Chouliarakis will meet with the heads of the International Monetary Fund and of European institutions, in Washington, within the scope of the IMF Spring Summit.
Tweets