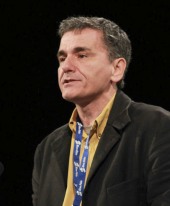 Euclid Tsakalotos
age: 59 years
European United Left–Nordic Green Left

Greece

Minister of Finance of Greece
Related to
Ranking among leaders of her/his own ...
Leader's Positon on Wholeads' Map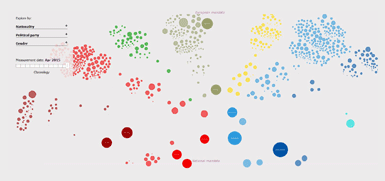 Click the image to identify a leader's position on Map
8.99
/10

8.22
/10

9.13
/10

% OF ALL SEARCHES/ MENTIONS
0.0785

Click on tabs to turn off individual graphs
Click to come back and forth on graph
Latest news about a leader
Peers hope Tsakalotos turns up in Thursday's Eurogroup
Wednesday, June 12, 2019 12:35:00 AM
TAGS: Finance Eurozone finance ministers are hoping their outgoing Greek counterpart, Euclid Tsakalotos, will not skip this Thursday's Eurogroup meeting like he did last month so that they get the chance to personally express their objections to the Greek government's policies, as explained in last week's European Commission report.
Tsakalotos attacks handout critics as austerity fans
Tuesday, May 21, 2019 12:33:00 AM
TAGS: Finance Finance Minister Euclid Tsakalotos on Monday dismissed officials who have expressed concern over the government's handout policy ahead of the elections including the head of the European Stability Mechanism, Klaus Regling as "austerity supporters," although concerns are also being....
Tsakalotos defends handouts, dismisses 'severe' reaction by Regling
Monday, May 20, 2019 11:53:00 AM
TAGS: Economy A package of benefits announced in recent weeks are part of a broader plan and signal that Greece is turning a page following its exit from international bailouts last year, Finance Minister Euclid Tsakalotos has told the Athens-Macedonia news agency, adding that criticism of the handouts by some foreign officials has been "severe.
Greek FinMin confirms: Strict reax by ESM's Regling over recent govt measures
Monday, May 20, 2019 11:18:00 AM
Greek Finance Minister Euclid Tsakalotos on Monday admitted that Athens' delegation at a Eurogroup meeting last Thursday was the recipient of a "strict reaction" by ESM Managing Director Klaus Regling, with the latter expressing criticism over the Tsipras government's abrupt announcement of moderate tax breaks and VAT reductions a week earlier.
Euro zone worried Greek spending plans may threaten surplus target
Friday, May 17, 2019 05:11:00 AM
FILE PHOTO - Greek Finance Minister Euclid Tsakalotos and European Stability Mechanism Managing Director Klaus Regling attend a eurozone finance ministers meeting in Brussels, Belgium February 11, 2019. REUTERS/Francois Lenoir BRUSSELS (Reuters) - Euro zone finance ministers are worried that recent....
Tweets