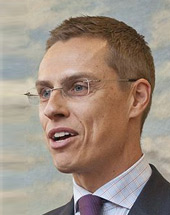 Alexander Stubb
age: 50 years

European People's Party

Finland

Vice-President of the EIB Management Committee
Related to
Ranking among leaders of her/his own ...
Leader's Positon on Wholeads' Map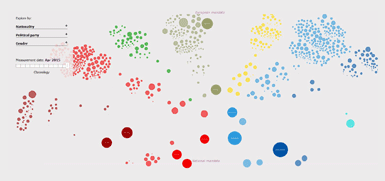 Click the image to identify a leader's position on Map
9.29
/10

9.25
/10

9.23
/10

% OF ALL SEARCHES/ MENTIONS
0.1494

Click on tabs to turn off individual graphs
Click to come back and forth on graph
Latest news about a leader
Stubb has 'zero tolerance' for EPP rebels
Friday, October 19, 2018 12:53:00 AM
Yesterday Read more: EurActiv.com Alexander Stubb, former prime minister of Finland and vice-president of the European Investment Bank , speaks during an informal meeting to present his programme for the 'Next Generation of Europe' at Grand Centrale Cafe, in Brussels, Belgium, 17 October 2018.
Stubb has 'zero tolerance' for EPP rebels
Wednesday, October 17, 2018 06:41:00 PM
Alexander Stubb, one of the EPP's candidates for the next European Commission president, came out in defiance against the 'illiberal' factions within his party on Wednesday (17 October), saying he had zero tolerance for violations of fundamental party values.
EU Confidential Episode 67: Alexander Stubb — Macron's exposed left flank
Friday, October 05, 2018 05:21:00 AM
Alexander Stubb pitches for the European Commission presidency in this week's episode. Stubb is competing to be the European People's Party candidate against Manfred Weber (who has also been invited to join an episode of EU Confidential) . Stubb is pushing values to the fore, presenting himself as a....
Teenage Truths: Exclusive interview: The next "EU president" could come from Luxembourg—again!
Thursday, October 04, 2018 10:56:00 AM
On the previous day, we got to me meet the man who might soon become the "defender of the free world"! And we didn't have to travel for it, because indeed it turns out that he is here in Luxembourg!! We are talking about Alexander Stubb. Just one day after we met him he announced that he is going to run for President of the European Commission.
Tweets