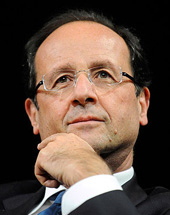 Francois Hollande
age: 63 years

Party of European Socialists

France

Former President of the French Republic
Related to
Ranking among leaders of her/his own ...
Leader's Positon on Wholeads' Map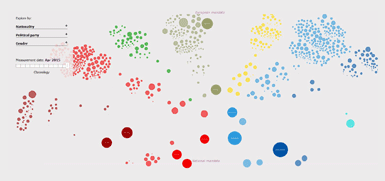 Click the image to identify a leader's position on Map
9.88
/10

9.92
/10

9.83
/10

% OF ALL SEARCHES/ MENTIONS
1.8581

Click on tabs to turn off individual graphs
Click to come back and forth on graph
Latest news about a leader
Will EU become chief peace negotiator?
Thursday, February 08, 2018 08:22:00 PM
European leaders are not unfamiliar with Israeli Prime Minister Benjamin Netanyahu's gate-crashing. For example, he invited himself to an anti-terrorism march in Paris in the wake of the gruesome Charlie Hebdo attack in 2015. Francois Hollande, the then French president, politely asked him to not....
Brexit quotes of 2017
Wednesday, January 17, 2018 05:30:00 AM
YellowSubmarine. A few more quotes and observations. – "There must be a threat, there must be a risk, there must be a price, François Hollande. Michel Barnier said: "There are extremely serious consequences of leaving the single market and it hasn't been explained to the British people.
Macron Picks Old Rival to Steer His Vision Through EU Minefields
Wednesday, December 13, 2017 11:50:00 AM
One way to win Emmanuel Macron's trust is to take him on. Macron regularly tussled with Philippe Leglise-Costa when they were vying for influence in Francois Hollande's inner circle between 2012 and 2014. Leglise-Costa was the technocrat negotiating line-by-line on everything from farming to immigration to Greek debt.
Summit on Ukraine planned for October 2
Wednesday, November 01, 2017 04:44:00 AM
Berlin (dpa) – German Chancellor Angela Merkel and presidents Francois Hollande of France, Petro Poroshenko of Ukraine and Vladimir Putin of Russia plan to meet next month to discuss the conflict in Ukraine, a German spokesman said late Wednesday. The Paris meeting will be held October 2, the Kremlin said.
Tweets