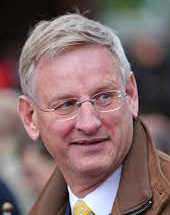 Carl Bildt
age: 70 years

European People's Party

Sweden

Former Foreign Affairs Minister of Sweden
Related to
Ranking among leaders of her/his own ...
Leader's Positon on Wholeads' Map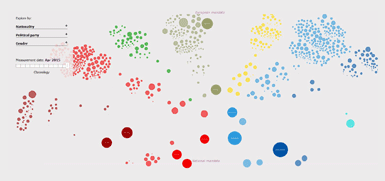 Click the image to identify a leader's position on Map
9.67
/10

9.78
/10

9.52
/10

% OF ALL SEARCHES/ MENTIONS
0.5941

Click on tabs to turn off individual graphs
Click to come back and forth on graph
Latest news about a leader
I say Europe, you say…? Interview with Carl Bildt
Wednesday, November 27, 2019 05:54:00 PM
I say Europe you say? Europe, Europe as well. What was the biggest myth about the EU that you had to dismantle during your career? Or to explain to your co-citizens? There were many, but I think the most common one, and to some extent, the most dangerous one, is the myth that the EU is going to take away national states and identities.
Bildt: France is pushing the E.U. toward strategic disaster
Monday, October 28, 2019 10:11:00 AM
Washington, 28 October 2019 (MIA) – There is little doubt that Brexit is a strategic disaster for the European Union. But too few seem to understand that the E.U. is heading toward another strategic disaster — this time in the Balkans, says former Swedish prime minister Carl Bildt in an opinion for the Washington Post.
Swedish Diplomat Carl Bildt on Prisoner Swap and Minsk Agreements 18 October
Friday, October 18, 2019 06:56:00 PM
Bildt used to be Prime Minister of Sweden from 1991 to 1994 and Minister of Foreign Affairs from 2006 to 2014. He has also been involved in the mediation of the Yugoslav wars and the conflict in the Balkans. He stressed that in the post-Cold-War period we are dealing with the new type of conflicts,....
Tweets
Sorry, no tweets available for this leader