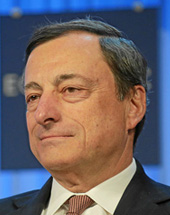 Mario Draghi
age: 72 years

Italy

President of the European Central Bank
Related to
Ranking among leaders of her/his own ...
Leader's Positon on Wholeads' Map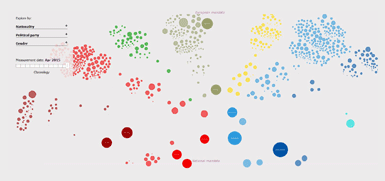 Click the image to identify a leader's position on Map
9.90
/10

9.95
/10

9.74
/10

% OF ALL SEARCHES/ MENTIONS
2.0079

Click on tabs to turn off individual graphs
Click to come back and forth on graph
Latest news about a leader
ECB's Lagarde warns of 'danger of doing nothing' on climate
Friday, January 24, 2020 10:21:00 AM
ECB chief Christine Lagarde on Thursday (23 January) said the bank would study what role it could play in combatting climate change as part of a major policy review, warning of "the danger of doing nothing". Unlike her predecessor Mario Draghi, Lagarde has placed a strong emphasis on climate....
Mario Draghi: We Are All in the Same Boat
Saturday, December 21, 2019 08:47:00 AM
"I think it's clear to everybody that if countries don't release some of their sovereignty about fiscal policy, there is no way they can be together. There's no way we can have one or two countries that pay for everybody else." These words belong to Mario Draghi, president of the European Central....
Mario Draghi, Abenomics and Ireland Were the Stars of Davos 2014
Saturday, December 21, 2019 08:47:00 AM
The European economic recovery is a fact, however it is fragile because there is a danger of losing momentum on reforms. Structural reforms are the key and were the two most frequently used words in the context of Europe's exit from the crisis during this year's World Economic Forum in Davos.
Economic Uncertainty Weighs over the Eurozone
Saturday, December 21, 2019 08:01:00 AM
Economic recovery of the Eurozone has slowed down due to new risks emerging in the last few months, reported European Central Bank boss Mario Draghi last Thursday after the first meeting of the bank's Governing Council after the summer holidays. The Real Gross Domestic Product of the euro area has....
Is ECB Getting Political Too?
Saturday, December 21, 2019 08:01:00 AM
The boss of the European Central Bank Mario Draghi gave life to several pieces of news after the end of the summer vacation. Following the regular meeting of the Governing Council of the ECB on September 8th Mr Draghi announced the end of financial fragmentation, repelled the attacks against the....
Tweets
Sorry, no tweets available for this leader