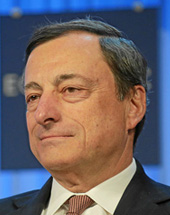 Mario Draghi
age: 72 years

Italy

President of the European Central Bank
Related to
Ranking among leaders of her/his own ...
Leader's Positon on Wholeads' Map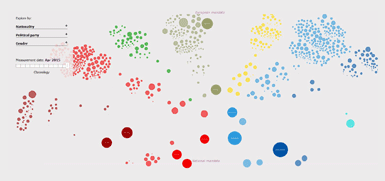 Click the image to identify a leader's position on Map
9.90
/10

9.95
/10

9.74
/10

% OF ALL SEARCHES/ MENTIONS
2.0079

Click on tabs to turn off individual graphs
Click to come back and forth on graph
Latest news about a leader
Eurozone industrial production beats predictions
Wednesday, November 13, 2019 02:04:00 PM
Industrial production the Eurozone grew for the second straight month in September, official figures showed today, beating analysts' expectations. Read more: Mario Draghi's ECB reign ends with Eurozone 'close to stagnation' The slump in Germany's factory sector continued, however, with output....
Lagarde era begins with chance to map out plans: Economy week
Sunday, November 03, 2019 11:04:00 AM
Lagarde, who took the reins on Nov. 1 from Mario Draghi, will speak in Berlin at a time when policy makers at the ECB are split over dwindling stimulus tools and the economy is flirting with recession. She may use the opportunity to tell governments, including Germany's, to do more to boost demand.
Lagarde Era Begins With Chance to Map Out Plans: Economy Week
Sunday, November 03, 2019 06:25:00 AM
(Bloomberg) -- The Christine Lagarde-era at the European Central Bank is underway and the new president gets her first chance to frame her outlook for the economy and monetary policy publicly on Monday. Lagarde, who took the reins on Nov. 1 from Mario Draghi, will speak in Berlin at a time when....
What to make of the strife at the ECB
Saturday, November 02, 2019 05:45:00 AM
N OT LONG ago it was hard to find anyone with a bad word to say about Mario Draghi, the Italian boss of the European Central Bank ( ECB ). He is credited with saving the euro by pledging, in the depths of a crisis in 2012, to do "whatever it takes" to stop the currency from breaking up.
Who can replace Mario Draghi, the man who saved the eurozone?
Thursday, October 31, 2019 07:56:00 AM
The stability of the eurozone is almost now taken as given, its future secure. People who argued at the height of the crisis in 2011 that the currency union's days were numbered tend to be portrayed as Cassandras or Eurosceptics ignorant of the complexities of European politics.
Tweets
Sorry, no tweets available for this leader