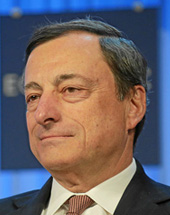 Mario Draghi
age: 71 years

Italy

President of the European Central Bank
Related to
Ranking among leaders of her/his own ...
Leader's Positon on Wholeads' Map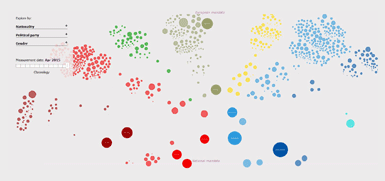 Click the image to identify a leader's position on Map
9.90
/10

9.95
/10

9.74
/10

% OF ALL SEARCHES/ MENTIONS
2.0079

Click on tabs to turn off individual graphs
Click to come back and forth on graph
Latest news about a leader
ECB near end of road seeks govt backup to help economy
Thursday, March 14, 2019 11:49:00 PM
The European Central Bank's latest round of stimulus is being accompanied by renewed calls on governments to step up their game in nurturing the economy. It's an acknowledgment by President Mario Draghi and fellow policy makers that they'll do what they can but their options are sorely depleted if the current economic weakness worsens.
EUROPEAN MALAISE Mario Draghi will never raise interest rates Quartz
Thursday, March 07, 2019 06:48:00 PM
Mario Draghi is the reluctant face of the euro-zone economy's perpetual sluggishness. When the Italian economist became president of European Central Bank in October 2011, the region was in the throes of a sovereign debt crisis. One of his first moves was to cut interest rates.
Race narrows to five candidates to take over from 'Super Mario' at ECB
Thursday, March 07, 2019 02:09:00 AM
Mario Draghi steps down as head of the ECB at the end of October and the field of candidates to replace him has narrowed. Here are the leading contenders to take over from "Super Mario" Benoit Coeuré has made a name for himself as the ECB's main ambassador with financial investors and international institutions.
Explainer - With Draghi's job eyed, ECB prepares for grand reshuffle
Wednesday, March 06, 2019 10:50:00 AM
The selection will cap a year of change that will see half of the ECB's board and more than a third of its Governing Council replaced, an unprecedented reshuffle in the euro's 20-year history. WHICH JOBS ARE UP FOR GRABS? The Holy Grail is of course the presidency, with Mario Draghi's term ending on Oct 31.
Mario Draghi: Sovereignty in a globalised world
Friday, February 22, 2019 06:41:00 PM
(AGENPARL) – Frankfurt, ven 22 febbraio 2019 Speech by Mario Draghi, President of the ECB, on the award of Laurea honoris causa in law from Università degli Studi di Bologna, Bologna, 22 February 2019. It is a great honour to be speaking here today at the University of Bologna.
Tweets