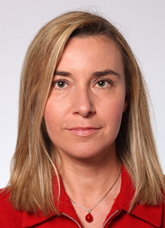 Federica Mogherini
age: 45 years

Party of European Socialists

Italy

High Representative of the Union for Foreign Affairs and Security Policy / Vice-President of the EC
Related to
Ranking among leaders of her/his own ...
Leader's Positon on Wholeads' Map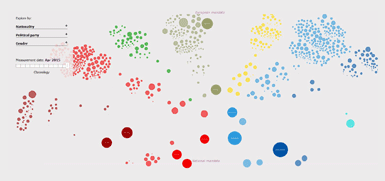 Click the image to identify a leader's position on Map
9.93
/10

9.85
/10

9.96
/10

% OF ALL SEARCHES/ MENTIONS
2.5462

Click on tabs to turn off individual graphs
Click to come back and forth on graph
Latest news about a leader
Countries have to work together for a solution on migration – Mogherini
Friday, January 18, 2019 05:36:00 PM
The Senior Representative of the European Union for Foreign Affairs and Security Policy, and Vice-President of the European Commission, Federica Mogherini, stated that whatever takes place in the Mediterranean effects everyone. Addressing the meeting of Foreign Ministers of European and West African....
Morocco to Receive €110 Million, Remainder of EU Border Control Fund
Friday, January 18, 2019 03:19:00 PM
Rabat – The European Union High Representative for Foreign Policy Federica Mogherini announced that Morocco will soon receive €110 million, the remainder of the €140 million fund that the EU allocated for Morocco to tackle irregular migration and to improve the management of borders in December.
Shared Mediterranean challenges required shared solutions -...
Friday, January 18, 2019 11:26:00 AM
The shared challenges in the Mediterranean region required shared solutions, EU High Representative Federica Mogherini said on Friday morning. Speaking during the opening of the 5+5 meeting being held in Malta, Ms Mogherini, who is the European Commission vice-president, said countries in the region....
EU participation in 'anti-Iran summit' shrouded in uncertainty
Thursday, January 17, 2019 06:18:00 PM
Mohammad Javad Zarif (L), the Foreign Minister of Iran, and Federica Mogherini, the High Representative of the European Union for Foreign Affairs and Security Policy, speak at a joint media briefing at the European Commission, in Brussels, Belgium, 15 February 2016.
Tweets

G. Jackie Milesi F. retweeted
Sat Jan 19 21:35:49 +0000 2019
#FacciamoRete #SiamoEuropei #SiamoTanti NON TUTTI SANNO CHE… La #UE ha CINQUE alte cariche su 28 Paesi Di queste alte ca…