Frans Timmermans
age: 57 years

Party of European Socialists
Netherlands

EC Commissioner - Vice-President (Better regulation - inter-institutional relations - rule of law and charter of fundamental rights)
Related to
Ranking among leaders of her/his own ...
Leader's Positon on Wholeads' Map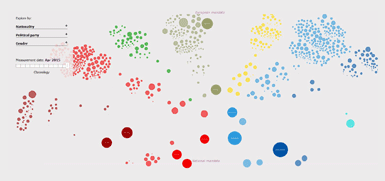 Click the image to identify a leader's position on Map
9.80
/10

9.73
/10

9.87
/10

% OF ALL SEARCHES/ MENTIONS
1.0270

Click on tabs to turn off individual graphs
Click to come back and forth on graph
Latest news about a leader
U.S. Is Now Europe's Biggest Challenge, EU Leader Says
Thursday, May 24, 2018 05:51:00 AM
A top European Union official has identified President Donald Trump's administration as one of the greatest challenges facing leaders on a continent traditionally aligned with the U.S. European Commision First Vice-President Frans Timmermans made the remarks Wednesday at the European Business Summit in Brussels.
Go to page 39
Thursday, May 24, 2018 05:07:00 AM
Speech by First Vice-President of the European Commission Frans Timmermans at the Dutch Buchenwald commemoration (transcript) Remarks by First Vice President Frans Timmermans on Better Regulation at BusinessEurope Day on 26 March 2015; Remarks by Frans Timmermans, First Vice President of the....
Europe's battle on four fronts
Wednesday, May 23, 2018 12:37:00 AM
W ith Germany's election over, Europe has reached the end of a season of continuous political upsets. It is now time for actions that adequately respond to the upheavals created by all these votes. Frans Timmermans, the European Commission's first vice president, last year described the state of....
Czaputowicz answers to Timmermans
Thursday, May 17, 2018 05:45:00 AM
The Polish government sees little room for further concessions concerning its judiciary reform, foreign minister Jacek Czaputowicz said on public radio commenting on European Commission deputy head Frans Timmermans's recent suggestion that the to-date concessions are insufficient.
Tweets