Frans Timmermans
age: 58 years

Party of European Socialists
Netherlands

EC Commissioner - Vice-President (Better regulation - inter-institutional relations - rule of law and charter of fundamental rights)
Related to
Ranking among leaders of her/his own ...
Leader's Positon on Wholeads' Map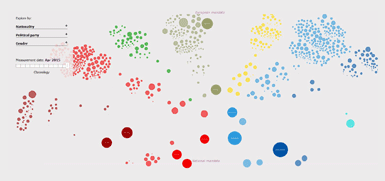 Click the image to identify a leader's position on Map
9.80
/10

9.73
/10

9.87
/10

% OF ALL SEARCHES/ MENTIONS
1.0270

Click on tabs to turn off individual graphs
Click to come back and forth on graph
Latest news about a leader
ECSA calls for EU Green Deal to recognise shipping's importance
Monday, April 06, 2020 05:02:00 PM
ECSA – the European body representing shipowners has called on the EU to ensure the European Green Deal must take into account the devastating impact of the COVID-19 pandemic. Following the statement by the Executive Vice-President, Frans Timmermans, on the postponement of the COP26, the ECSA Board....
Biofuel trade groups express concern that fall in demand could shut down plants
Monday, April 06, 2020 01:58:00 PM
A group of European biofuel trade groups have dispatched a letter to the European Union to voice their concerns that countries could cut back on blending commitments as the virus pandemic continues to spread. The letter was sent to Frans Timmermans, the executive vice president for the European....
EU should 'align all' funds toward Green Deal
Wednesday, March 25, 2020 08:28:00 AM
The EU's €37bn virus crisis fund its long-term budget ought to be used to help cut CO2 emissions in line with the EU's so-called Green Deal objectives, Diederik Samsom, the head of cabinet of European Commission vice-president Frans Timmermans told press. Diederik Samsom. "We should ...
Poland Remains in the Dock over Judiciary Changes
Monday, March 23, 2020 01:42:00 PM
European Commission Vice President Frans Timmermans left Warsaw after his meeting with Poland's Prime Minister Mateusz Morawiecki this week without securing any concessions on planned judiciary reforms that the EU insists are against the rule of law. Timmermans re-iterated EU demands that the Poles....
Tweets
Sorry, no tweets available for this leader