Frans Timmermans
age: 58 years

Party of European Socialists
Netherlands

EC Commissioner - Vice-President (Better regulation - inter-institutional relations - rule of law and charter of fundamental rights)
Related to
Ranking among leaders of her/his own ...
Leader's Positon on Wholeads' Map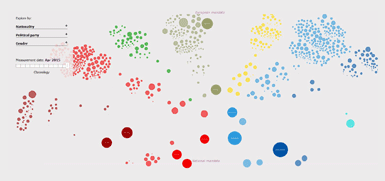 Click the image to identify a leader's position on Map
9.80
/10

9.73
/10

9.87
/10

% OF ALL SEARCHES/ MENTIONS
1.0270

Click on tabs to turn off individual graphs
Click to come back and forth on graph
Latest news about a leader
Poland Remains in the Dock over Judiciary Changes
Tuesday, January 21, 2020 02:45:00 PM
European Commission Vice President Frans Timmermans left Warsaw after his meeting with Poland's Prime Minister Mateusz Morawiecki this week without securing any concessions on planned judiciary reforms that the EU insists are against the rule of law. Timmermans re-iterated EU demands that the Poles....
European Commission unveils European Green Deal
Thursday, January 16, 2020 01:35:00 AM
Today the European Commission is presenting the 'European Green Deal' in the European Parliament. The deal, presented by President Ursula von der Leyen and Frans Timmermans, is pitched to be a response to the challenges of climate change and a bid to make Europe the first climate-neutral continent by 2050.
EU Unveils Fund To Woo Poland On Climate
Tuesday, January 14, 2020 06:06:00 PM
European Commission Vice President Frans Timmermans says the new fund will help Europe's coal-dependent regions transition to cleaner energy. NurPhoto via Getty Images. Poland may have balked at the last minute at supporting an EU plan to completely decarbonize by 2050 last month, but the European....
Official opening of Lisbon European Green Capital 2020
Saturday, January 11, 2020 07:45:00 PM
epa08120290 The Vice-President of the European Commission Frans Timmermans, with Flag of Europe during the inauguration of the official opening Lisbon European Green Capital 2020, at Carlos Lopes Pavilion, in Lisbon, Portugal, 11 January 2020. The Portuguese capital officially receives the testimony....
EU considers appointing special envoy to Libya
Saturday, January 11, 2020 12:13:00 PM
Executive Vice President-Designate of the European Commission, Frans Timmermans said Friday that the EU is considering appointing the former Italian Interior Minister, Marco Minetti as a European envoy to Libya. The EU official explained that the nomination of Minetti as a special envoy to Libya....
Tweets
Sorry, no tweets available for this leader