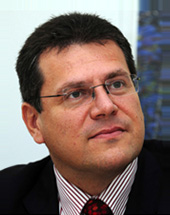 Maros Sefcovic
age: 52 years

Party of European Socialists

Slovakia

EC Commissioner (Energy Union) - Vice-President
Related to
Ranking among leaders of her/his own ...
Leader's Positon on Wholeads' Map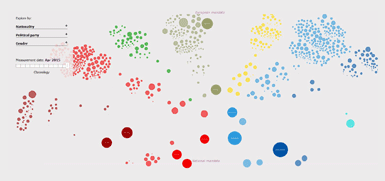 Click the image to identify a leader's position on Map
8.54
/10

8.40
/10

8.53
/10

% OF ALL SEARCHES/ MENTIONS
0.0433

Click on tabs to turn off individual graphs
Click to come back and forth on graph
Latest news about a leader
Zeman to meet with Slovak presidential candidate Šefčovič
Saturday, March 23, 2019 10:46:00 AM
Czech President Miloš Zeman is to receive Slovak presidential candidate, Vice-President of the European Commission Maroš Šefčovič at Lany chateau on Sunday. The news was confirmed by the Czech president's chancellor, Vratislav Mynář, who told Denik N that the meeting was taking place at the request of Mr.
Anti-corruption activist set to win Slovakia presidential run-off
Friday, March 22, 2019 09:03:00 PM
She scored double-digit leads over rival European Commission vice-president Maros Sefcovic, a 52-year-old career diplomat backed by the governing leftist Smer-SD party, in the race for the largely ceremonial post. Caputova took 65 percent support compared to 35 percent for Sefcovic in a Friday....
EU-Ukraine relations, factsheet
Tuesday, March 19, 2019 11:47:00 AM
(AGENPARL) – Brussels (Belgium), mar 19 marzo 2019. On 24 November 2016, in Brussels, the European Commission Vice-President for Energy Union, Maroš Šefčovič and the Energy Minister of Ukraine, Ihor Nasalyk, a new Memorandum of Understanding on a Strategic Energy Partnership between the EU and Ukraine .
Slovak President to be Čaputová or Šefčovič
Monday, March 18, 2019 04:37:00 PM
18. 03. 2019 15:12. Liberal candidate Zuzana Caputova and European Commission Vice-president Maros Sefcovic have made it into Slovakia's presidential election run-off scheduled for March 30. The lawyer and environmental activist Čaputová received 40.57 percent and Euro Commissioner Šefčovič 18.
Anti-graft campaigner Caputova leads #Slovak presidential election first round
Monday, March 18, 2019 03:35:00 PM
Lawyer and anti-corruption campaigner Zuzana Caputova has easily won the first round of Slovakia's presidential election.She has just over 40% with Maros Sefcovic of the ruling Smer-SD party her nearest rival on less than 19%. Ms Caputova came to prominence during mass protests sparked by the murder....
Tweets