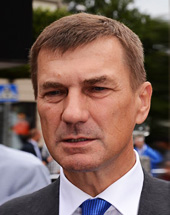 Andrus Ansip
age: 61 years

Alliance of Liberals and Democrats for Europe

Estonia

EC Commissioner (Digital Single Market) - Vice-President
Related to
Ranking among leaders of her/his own ...
Leader's Positon on Wholeads' Map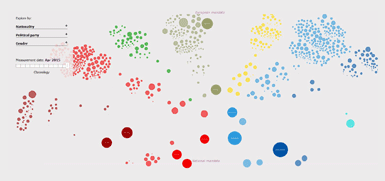 Click the image to identify a leader's position on Map
9.54
/10

9.34
/10

9.61
/10

% OF ALL SEARCHES/ MENTIONS
0.3377

Click on tabs to turn off individual graphs
Click to come back and forth on graph
Latest news about a leader
Taavi Rõivas shares and supports Andrus Ansip Europe ambitions
Thursday, September 13, 2018 06:48:00 PM
"It is highly likely that I will run in the next European parliamentary elections; I believe that order for a small country to be heard on the European stage, we need to send as strong a representation as possible to Brussels," Mr. Rõivas told ERR on Thursday.
#Estonia joins European initiative to develop #Supercomputers
Tuesday, August 28, 2018 09:36:00 AM
Estonia has signed the European declaration on high-performance computing (HPC) with the aim to pool European and national resources to build and deploy world-class supercomputers that would be ranked in the world's top-three by 2022-2023. Digital Single Market Vice President Andrus Ansip attended the signing ceremony in Tartu, Estonia.
EU digital chief urges lawmakers to ease tough copyright stand
Saturday, July 14, 2018 05:15:00 AM
BRUSSELS (Reuters) - EU digital chief Andrus Ansip on Friday called EU lawmakers to tone down their tough line on copyright reforms as Europe races to agree rules which will force tech giants to share revenues with publishers, broadcasters and artists.
Tweets