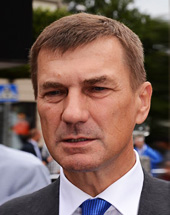 Andrus Ansip
age: 62 years

Alliance of Liberals and Democrats for Europe

Estonia

EC Commissioner (Digital Single Market) - Vice-President
Related to
Ranking among leaders of her/his own ...
Leader's Positon on Wholeads' Map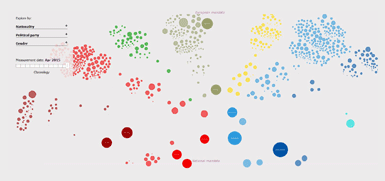 Click the image to identify a leader's position on Map
9.54
/10

9.34
/10

9.61
/10

% OF ALL SEARCHES/ MENTIONS
0.3377

Click on tabs to turn off individual graphs
Click to come back and forth on graph
Latest news about a leader
EU Outlaws 'Unfair Business Practices' by Google, Apple in 'First Ever' Deal
Thursday, February 14, 2019 03:14:00 PM
The new deal was announced by the European Parliament, the Council of the European Union and the European Commission Main European Union bodies on Thursday. According to the Vice-President for the Digital Single Market Andrus Ansip, the EU aimed "to outlaw some of the most unfair practices and create a benchmark for transparency.
EIT Digital: Enhancing the Global Impact of European Innovation
Wednesday, February 13, 2019 09:18:00 AM
EIT Digital presented its Strategic Innovation Agenda for the period 2020-2022, outlining planstostrengthen Europe's position in the digital world and to help business and entrepreneurs to be at the forefront of digital innovation. The document was officially handed over to European Commission Vice-President Andrus Ansip and MEP Eva Kaili.
EC's Andrus Ansip Calls for Tech Companies to Work Harder Against Fake News -Reuters
Tuesday, January 29, 2019 10:01:00 PM
--European Commission Vice President Andrus Ansip urged Alphabet Inc.'s (GOOG, GOOGL) Google, and Mozilla to work harder to prevent fake news, Reuters reported Tuesday. --Mr. Ansip also wants more advertisers to participate in the voluntary code of conduct that companies and trade bodies signed in October, Reuters reported.
EU may tighten rules against China's Huawai due to feared intel | #AsiaNewsNetwork
Monday, January 28, 2019 09:43:00 AM
BRUSSELS (Japan News/ANN) — The European Union's digital affairs chief fears that Huawei Technologies Co. is providing intelligence to the Chinese government, he told The Yomiuri Shimbun in an interview. Andrus Ansip, vice president of the European Commission, also said that the EU is considering....
EU officer says China poses cyberrisk
Saturday, January 26, 2019 07:20:00 PM
European Commission Vice-President for the Single Digital Market Andrus Ansip is urging EU member states to consider the risk of partnering with Chinese companies like Huawei Technologies Co (華為). In an interview, Ansip said that China's National Intelligence Law of 2017 has increased the risk in dealing with Chinese companies in Europe.
Tweets