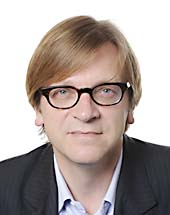 Guy Verhofstadt
age: 65 years

Alliance of Liberals and Democrats for Europe

Belgium

Chairman of the ALDE EP group
Related to
Ranking among leaders of her/his own ...
Leader's Positon on Wholeads' Map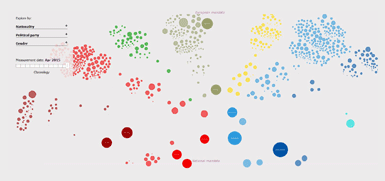 Click the image to identify a leader's position on Map
9.82
/10

9.76
/10

9.89
/10

% OF ALL SEARCHES/ MENTIONS
1.1509

Click on tabs to turn off individual graphs
Click to come back and forth on graph
Latest news about a leader
Facebook CEO causes EU stink ahead of trip
Thursday, May 17, 2018 11:37:00 AM
"Pity this will not be a public hearing. There are more EU users on Facebook than there are in the US & Europeans deserve to know how their data is handled," EU justice commissioner Vera Joureva said on Twitter on Wednesday (16 May). Guy Verhofstadt, the leader of the liberal Alde group, said: "I....
Brexit deals: How many will there be?
Wednesday, May 09, 2018 01:58:00 PM
Image copyright Reuters Image caption Guy Verhofstadt (L) has proposed an Association Agreement with the UK to cover trade, security, foreign policy and other areas. EU leaders have signed off on a blueprint for the future relationship, which currently envisages at least four different agreements. Withdrawal Agreement.
The EU must stop funding Illiberalism
Tuesday, May 01, 2018 10:27:00 AM
By Guy Verhofstadt. Since 2004, when the European Union was enlarged to include many of the former communist states of Central and Eastern Europe, its regional funding mechanism has been heavily geared toward ameliorating economic inequalities between old and "new" member states.
Tweets