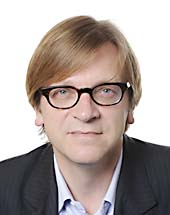 Guy Verhofstadt
age: 64 years

Alliance of Liberals and Democrats for Europe

Belgium

Chairman of the ALDE EP group
Related to
Ranking among leaders of her/his own ...
Leader's Positon on Wholeads' Map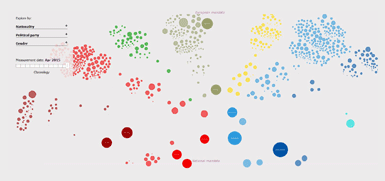 Click the image to identify a leader's position on Map
9.82
/10

9.76
/10

9.89
/10

% OF ALL SEARCHES/ MENTIONS
1.1509

Click on tabs to turn off individual graphs
Click to come back and forth on graph
Latest news about a leader
UK-EU trade deal will not be agreed before Brexit day, EU negotiator warns
Monday, February 19, 2018 05:45:00 AM
T he UK's Brexit trade deal with the EU will not be finalised before exit day, Guy Verhofstadt has warned. Instead there will be an "annex" inside the withdrawal agreement which will set out what a future relationship might look like, to be thrashed out during the transitional period while current rules remain in place.
HAIRED A COUPLE? EU chief Juncker larks around with Brexit bigwig Verhofstadt
Wednesday, February 07, 2018 05:23:00 AM
It's playground games for Jean-Claude Juncker as he ruffles the hair of his chief Brexit negotiator in Strasbourg, France. Guy Verhofstadt was startled by the European Commission president who crept up behind him and pretended to give him a haircut ahead of a debate on the future of Europe.
European Parliament session in Strasbourg
Tuesday, February 06, 2018 12:36:00 PM
epa06499695 Belgium's Guy Verhofstadt (L), leader of the ALDE Liberal group at the European Parliament, becomes the target of a joking Jean-Claude Juncker (R), President of the European Commission, at the European Parliament in Strasbourg, France, 06 February 2018.
MEPs, activists reject May's challenge to citizens' rights
Thursday, February 01, 2018 07:56:00 PM
"Citizens rights during the transition are not negotiable. We will not accept that there are two sets of rights for EU citizens. For the transition to work, it must mean continuation of the existing acquis with no exception," Belgian MEP Guy Verhofstadt, leader of the Brexit steering group tweeted, being absent from the hearing.
Tweets