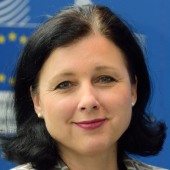 Vera Jourova
age: 55 years

Alliance of Liberals and Democrats for Europe

Czech Republic

Commissioner for Justice - Consumers and Gender Equality
Related to
Ranking among leaders of her/his own ...
Leader's Positon on Wholeads' Map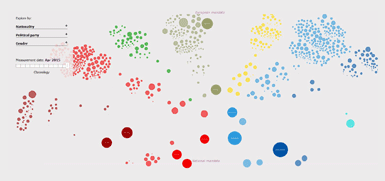 Click the image to identify a leader's position on Map
9.02
/10

8.65
/10

9.18
/10

% OF ALL SEARCHES/ MENTIONS
0.0867

Click on tabs to turn off individual graphs
Click to come back and forth on graph
Latest news about a leader
EC: 'A Free Europe is not a given but a choice, every day'
Friday, August 23, 2019 11:24:00 AM
European Commissioners Frans Timmermans and Vera Jourová released a statement marking August 23, the Europe-Wide Day of Remembrance for the victims of all totalitarian and authoritarian regimes, saying that "a Free Europe is not a given but a choice, every day".
EU to revive money laundering blacklist with new criteria
Tuesday, August 20, 2019 03:36:00 PM
Vera Jourova, EU justice commissioner. The European Union will reveal a new methodology for its anti-money laundering blacklist of third countries by October. A previous blacklist was blocked by EU governments after a diplomatic row over the listing of Saudi Arabia and four US overseas territories.
Jourová eyes digital, internal market or trade portfolio in Commission
Tuesday, August 20, 2019 12:54:00 PM
The Czech Republic's candidate for the post of the country's European commissioner, Věra Jourová, says she would be interested in securing the digital agenda, internal market or trade portfolio. She made the comment to members of the Czech lower house's European Affairs Committee in Prague on Tuesday.
New EU anti-money laundering blacklist in October
Monday, August 19, 2019 10:44:00 AM
Vera Jourova, EU's commissioner for justice, announced that she is undertaking a new attempt to create an EU blacklist of countries that are open to fraud and money laundering in October, before the end of the current European Commission's mandate, according to the Financial Times.
Lower house to debate Jourová's nomination for EU commissioner
Friday, August 09, 2019 11:28:00 AM
The committee for EU affairs in the Czech lower house will discuss the nomination of Věra Jourová for another term as the Czech EU commissioner on Tuesday, August 20, the ctk news agency reported. The Czech prime minister, Andrej Babiš, already informed the incoming president of the European....
Tweets
Sorry, no tweets available for this leader