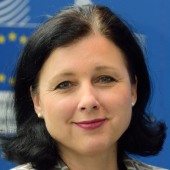 Vera Jourova
age: 55 years

Alliance of Liberals and Democrats for Europe

Czech Republic

Commissioner for Justice - Consumers and Gender Equality
Related to
Ranking among leaders of her/his own ...
Leader's Positon on Wholeads' Map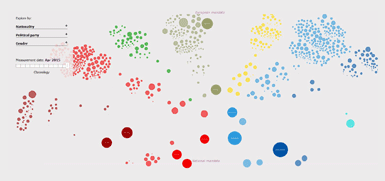 Click the image to identify a leader's position on Map
9.02
/10

8.65
/10

9.18
/10

% OF ALL SEARCHES/ MENTIONS
0.0867

Click on tabs to turn off individual graphs
Click to come back and forth on graph
Latest news about a leader
EU, Russia row over WWII, with Poles and Czechs on front lines
Wednesday, January 22, 2020 05:10:00 PM
European Commission vice president Věra Jourová, whose portfolio includes promoting EU values, transparency and the rule-of-law, called out Russia last week for "distorting" the history of World War II. Specifically, the former Czech minister objected to attempts "to paint victims, like Poland, as perpetrators".
Russia, European Commission in war of words over WW II
Monday, January 20, 2020 12:17:00 PM
Polish Prime Minister Mateusz Morawiecki said last month that the Russian president lied about the war's history, emphasising that as time passes it's important to speak the truth. The truth, according to EU's Commissioner for Values and Transparency, Věra Jourova's account, was that Hitler-Stalin....
EU defends Poland over Russian WW2 claims
Thursday, January 16, 2020 09:08:00 AM
The European Commission has voiced solidarity with Poland over Russian claims Poland was to blame for World War 2. "The European Commission fully rejects all false claims seeking to distort history," Czech EU values commissioner Vera Jourova said in the European Parliament Wednesday.
Jourová defends Poland from Russian historical attacks
Thursday, January 16, 2020 06:13:00 AM
Russia's efforts to paint Poland as a perpetrator of World War II brought the European Commission to Warsaw's defense on Wednesday. But minutes later, Vĕra Jourová, the Commission vice president in charge of values and transparency, criticized Poland's ruling nationalist Law and Justice (PiS) party....
Judicial reform controversies
Friday, January 10, 2020 05:57:00 AM
Poland faces no immediate reaction from Brussels to its latest judiciary reform efforts discussed on January 8 by Polish upper house (Senate) speaker Tomasz Grodzki, European Commission deputy head Vera Jourova and EU justice commissioner Didier Reynders, newspapers Rzeczpospolita and Gazeta Wyborcza wrote.
Tweets
Sorry, no tweets available for this leader