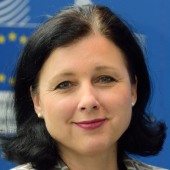 Vera Jourova
age: 55 years

Alliance of Liberals and Democrats for Europe

Czech Republic

Commissioner for Justice - Consumers and Gender Equality
Related to
Ranking among leaders of her/his own ...
Leader's Positon on Wholeads' Map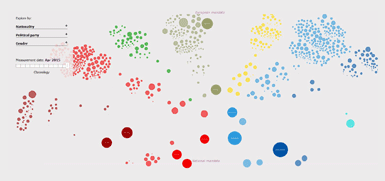 Click the image to identify a leader's position on Map
9.02
/10

8.65
/10

9.18
/10

% OF ALL SEARCHES/ MENTIONS
0.0867

Click on tabs to turn off individual graphs
Click to come back and forth on graph
Latest news about a leader
Russia Seeking to Meddle in EU Elections, Commissioner Warns
Tuesday, November 19, 2019 09:03:00 AM
Meddling from abroad, especially disinformation campaigns by Russia, are seeking to influence the outcome of the 2019 EU elections, European Commissioner for Justice Vera Jourova has warned. The citizens of the 28 EU member states, including the UK which presently on a Brexit extension, are going to....
Jourová: Rule of law is essential to EU integration
Monday, November 18, 2019 10:52:00 PM
Skopje, 18 November 2019 (MIA) – For the European Commission, there's no doubt about the EU perspective of the Western Balkans; the region will remain a priority, depending on sustainable results regarding the rule of law, according to Věra Jourová, European Commissioner for Justice, Consumers, and Gender Equality.
Commissioner Jourová rejects Macron assertion NATO is brain dead
Sunday, November 10, 2019 05:27:00 PM
The Czech Republic's European Commissioner, Věra Jourová, has come out against a statement by French President Emanuel Macron that NATO is "brain dead". Speaking on Czech Television on Sunday, Ms. Jourová said everything that caused the Kremlin to celebrate should be eschewed, adding that she the....
EU official welcomes Czech resolution that calls Israel boycott anti-Semitism
Saturday, October 26, 2019 08:48:00 AM
JTA — In an unusual move, a top European Union official celebrated the Czech parliament's passing of a resolution that lists the campaign to boycott Israel among forms of anti-Semitism. The European Commissioner for Justice, Consumers and Gender Equality, Věra Jourová, who is Czech, on Wednesday....
Casa asks European Commission to suspend Malta's IIP scheme
Saturday, October 26, 2019 05:16:00 AM
PN MEP David Casa has written to the European Commissioner for Justice, Vera Jourova, asking for the suspension of the passport for sale scheme. The call came after a Parliamentary debate yesterday, during which more information about the system's lack of due diligence emerged.
Tweets
Sorry, no tweets available for this leader