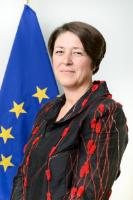 Violeta Bulc
age: 55 years

Alliance of Liberals and Democrats for Europe

Slovenia

European Commissioner for Transport
Related to
Ranking among leaders of her/his own ...
Leader's Positon on Wholeads' Map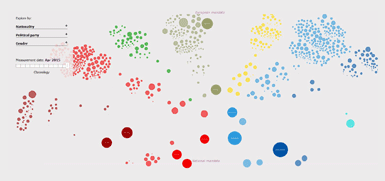 Click the image to identify a leader's position on Map
9.37
/10

9.14
/10

9.46
/10

% OF ALL SEARCHES/ MENTIONS
0.1670

Click on tabs to turn off individual graphs
Click to come back and forth on graph
Latest news about a leader
Etihad Airways is good for Europe, James Hogan
Wednesday, March 20, 2019 05:05:00 PM
Etihad Airways president, James Hogan, has met the European Commission Transport Commissioner, Violeta Bulc, to highlight the benefits which the airline delivers to European consumers, outlining the multi-billion euro contribution which it makes to European economies, and reinforce the risks associated with rising protectionist sentiment.
Qatar Airways runs all women flight
Thursday, March 14, 2019 08:29:00 PM
Qatar Airways on Sunday operated an Airbus A350 flight QR194 from Brussels to Doha entirely by 15 women, from flight deck to cabin crew. The European Commissioner for Transport Violeta Bulc described the initiative as a great example of encouraging women for joining the sector, says a statement.
Qatar Airways outlines Europe growth plans
Friday, March 01, 2019 02:41:00 AM
Akbar Al Baker, group chief executive at Qatar Airways recently met with the European Commissioner of Transport, Violeta Bulc, in Brussels to discuss aviation cross-border matters and overall industry growth. Al Baker shared with Bulc the major milestones for Qatar Airways, including its strategy and growth plans in Europe and beyond.
Brexit news: European Commission STUMBLES on solution to backstop STALEMATE - UK
Sunday, February 17, 2019 12:13:00 AM
European Commissioner for Transport Violeta Bulc this week submitted to MEPs proposals for a new system allowing member states to combine electronic road tolls and information exchange to track drivers failing to pay road fees. Brexit Party MEP Bill Etheridge welcomed the proposal, suggesting Ms....
Commissioner challenges Tajani to joint trip over Italy-Slovenia row
Friday, February 15, 2019 02:45:00 PM
Slovenia's European commissioner, Violeta Bulc, stepped up her attempt to get European Parliament President Antonio Tajani to join her at a ceremony in northern Italy following a spat over historical atrocities. Bulc, the transport commissioner, called on Tajani to join her at a commemoration on....
Tweets