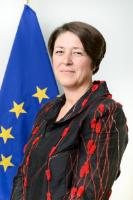 Violeta Bulc
age: 54 years

Alliance of Liberals and Democrats for Europe

Slovenia

European Commissioner for Transport
Related to
Ranking among leaders of her/his own ...
Leader's Positon on Wholeads' Map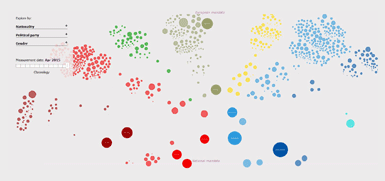 Click the image to identify a leader's position on Map
9.37
/10

9.14
/10

9.46
/10

% OF ALL SEARCHES/ MENTIONS
0.1670

Click on tabs to turn off individual graphs
Click to come back and forth on graph
Latest news about a leader
Etihad Airways is good for Europe, James Hogan
Sunday, October 28, 2018 02:19:00 AM
Etihad Airways president, James Hogan, has met the European Commission Transport Commissioner, Violeta Bulc, to highlight the benefits which the airline delivers to European consumers, outlining the multi-billion euro contribution which it makes to European economies, and reinforce the risks associated with rising protectionist sentiment.
EU to stop changing the clocks in 2019
Friday, October 26, 2018 01:23:00 PM
European Commissioner for Transport Violeta Bulc on Friday announced that the EU will stop the twice-yearly changing of clocks across the continent in October 2019. The practice, which was used as a means to conserve energy during the World Wars as well as the oil crises of the 1970s, became law across the bloc in 1996.
Qatar Airways outlines Europe growth plans
Sunday, September 30, 2018 10:18:00 AM
Akbar Al Baker, group chief executive at Qatar Airways recently met with the European Commissioner of Transport, Violeta Bulc, in Brussels to discuss aviation cross-border matters and overall industry growth. Al Baker shared with Bulc the major milestones for Qatar Airways, including its strategy and growth plans in Europe and beyond.
Commissioner Bulc meets with President of Boeing International, Marc Allen, and senior Boeing executives in Seattle, Washington
Wednesday, September 26, 2018 05:29:00 AM
. European Commissioner for Transport, Violeta Bulc met with President of Boeing International, Marc Allen, Chief Technology Officer, Greg Hyslop and other senior Boeing executives in Seattle, Washington to discuss how to advance the safe and secure integration of next-generation aerial vehicles....
Tweets