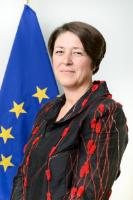 Violeta Bulc
age: 55 years

Alliance of Liberals and Democrats for Europe

Slovenia

European Commissioner for Transport
Related to
Ranking among leaders of her/his own ...
Leader's Positon on Wholeads' Map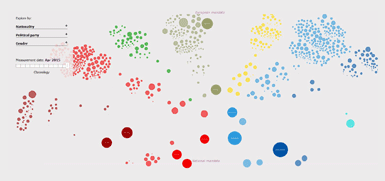 Click the image to identify a leader's position on Map
9.37
/10

9.14
/10

9.46
/10

% OF ALL SEARCHES/ MENTIONS
0.1670

Click on tabs to turn off individual graphs
Click to come back and forth on graph
Latest news about a leader
Etihad Airways is good for Europe, James Hogan
Wednesday, April 24, 2019 03:26:00 AM
Etihad Airways president, James Hogan, has met the European Commission Transport Commissioner, Violeta Bulc, to highlight the benefits which the airline delivers to European consumers, outlining the multi-billion euro contribution which it makes to European economies, and reinforce the risks associated with rising protectionist sentiment.
EU parliament prefers WIFI over 5G for connected cars
Thursday, April 18, 2019 07:49:00 PM
Now the Council of Europe, with the 27 member states, has the final say. The European Commission already approved a set of rules favouring ITS-G5 WIFI over cellular phone 5G technology for communication with the connected car of the future. Commissioner for Transport, Violeta Bulc, pleaded that WIFI is "easy to implement and cheap".
Bulc urges 5G advocates to focus on autonomous driving, leave connected cars to WiFi
Wednesday, April 17, 2019 09:29:00 AM
A European Commission plan to push WiFi as the technology of choice for connected cars over 5G has caused controversy. EU transport chief Violeta Bulc told EURACTIV in an interview that saving lives is the most important factor and WiFi is the only proven option. Violeta Bulc is European Commissioner for Transport.
Qatar Airways outlines Europe growth plans
Thursday, April 11, 2019 12:34:00 PM
Akbar Al Baker, group chief executive at Qatar Airways recently met with the European Commissioner of Transport, Violeta Bulc, in Brussels to discuss aviation cross-border matters and overall industry growth. Al Baker shared with Bulc the major milestones for Qatar Airways, including its strategy and growth plans in Europe and beyond.
Tweets

Sam Bennett 🔶🇪🇺🏴󠁧󠁢󠁷󠁬󠁳󠁿🏳️‍🌈🇬🇧 retweeted
Sun May 19 20:30:43 +0000 2019
Team Europe: 7 leaders, all with a passion to #RenewEurope! ☑ Nicola Beer ☑ Emma Bonino ☑ Violeta Bulc ☑ Katalin Cseh…