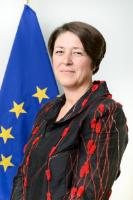 Violeta Bulc
age: 55 years

Alliance of Liberals and Democrats for Europe

Slovenia

European Commissioner for Transport
Related to
Ranking among leaders of her/his own ...
Leader's Positon on Wholeads' Map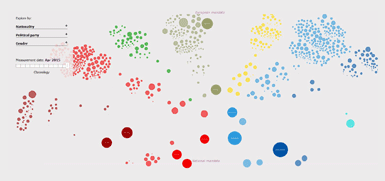 Click the image to identify a leader's position on Map
9.37
/10

9.14
/10

9.46
/10

% OF ALL SEARCHES/ MENTIONS
0.1670

Click on tabs to turn off individual graphs
Click to come back and forth on graph
Latest news about a leader
Etihad Airways is good for Europe, James Hogan
Monday, July 08, 2019 04:49:00 PM
Etihad Airways president, James Hogan, has met the European Commission Transport Commissioner, Violeta Bulc, to highlight the benefits which the airline delivers to European consumers, outlining the multi-billion euro contribution which it makes to European economies, and reinforce the risks associated with rising protectionist sentiment.
Danish Shipping Agenda in EU
Monday, June 24, 2019 08:22:00 AM
Two European Commissioners will come by Amaliegade and Danish Shipping's headquarters to discuss the most important points of the Danish maritime shipping agenda in EU in the coming years today. The Slovenian EU Commissioner for Transport, Violeta Bulc and her colleague, EU Commissioner for....
Aviation strategy is flying high
Friday, June 21, 2019 11:31:00 AM
Violeta Bulc | Photo credit: Bea Uhart The years since the launch of the Aviation Strategy for Europe in 2015 have been beneficial for European aviation. Air transport in Europe is safer than ever before and off ers better connectivity for the travelling public.
Qatar Airways outlines Europe growth plans
Monday, June 17, 2019 08:55:00 PM
Akbar Al Baker, group chief executive at Qatar Airways recently met with the European Commissioner of Transport, Violeta Bulc, in Brussels to discuss aviation cross-border matters and overall industry growth. Al Baker shared with Bulc the major milestones for Qatar Airways, including its strategy and growth plans in Europe and beyond.
Transport council meeting
Thursday, June 06, 2019 11:49:00 AM
epa07629102 Ricardas Degutis (L) chats with European commissioner in charge of transport Violeta Bulc (R) at the start of the Transport council meeting in Luxembourg, 06 June 2019. The Council is expected to agree its position on a proposal on the use of electronic freight transport information.
Tweets