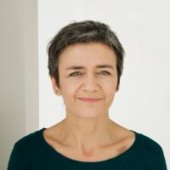 Margrethe Vestager
age: 51 years

Alliance of Liberals and Democrats for Europe

Denmark

Commissioner for Competition
Related to
Ranking among leaders of her/his own ...
Leader's Positon on Wholeads' Map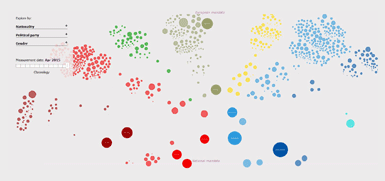 Click the image to identify a leader's position on Map
9.65
/10

9.50
/10

9.73
/10

% OF ALL SEARCHES/ MENTIONS
0.5242

Click on tabs to turn off individual graphs
Click to come back and forth on graph
Latest news about a leader
Silicon Valley's Biggest Foe Is Getting Even Tougher
Tuesday, November 19, 2019 01:32:00 PM
BRUSSELS — Margrethe Vestager spent the past five years developing a well-earned reputation as the world's top tech industry watchdog. From her perch overseeing Europe's competition rules, she fined Google more than $9 billion for breaking antitrust laws, and forced Apple to pay about $14.5 billion for dodging taxes.
20 years of EURACTIV: Vestager says without free media there is no democracy
Tuesday, November 19, 2019 10:15:00 AM
BRUSSELS. Without a free press public space will be muted and therefore, there will be no democracy, EU Commissioner Margrethe Vestager said yesterday (18 November) at an event to celebrate EURACTIV's 20 th anniversary. "We need independent, unbiased and hopefully pro-European media because this....
EU Commission approves €2.6bn state aid for National Broadband Plan
Saturday, November 16, 2019 06:08:00 AM
The EU Commission has given the National Broadband Plan the green light, meaning that contract signing is likely imminent. EU competition commissioner Margrethe Vestager has said that Ireland's National Broadband Plan will "address the significant digital divide between urban and rural areas in....
EU Commission looks into Italian tax exemption for port operators
Friday, November 15, 2019 04:41:00 PM
. The EU Commission will now review a special rule that exempts Italian port operators from corporate tax in an effort to avoid disrupting competition, says EU Commissioner for Competition Margrethe Vestager. Konkurrencekommissær Margrethe Vestager står i spidsen for undersøgelse. Photo: Yves Herman/Reuters/Ritzau Scanpix.
EU approves state aid for Government's National Broadband Plan
Friday, November 15, 2019 01:49:00 PM
EU Competition Commissioner Margrethe Vestager said that the measure was improved as a measure to address the "significant digital divide between urban and rural areas in Ireland". She said that it will "help households and businesses in areas of Ireland where private investment is insufficient".
Tweets
Sorry, no tweets available for this leader