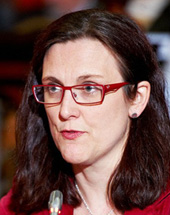 Cecilia Malmstrom
age: 49 years

Alliance of Liberals and Democrats for Europe

Sweden

EC Commissioner (Trade)
Related to
Ranking among leaders of her/his own ...
Leader's Positon on Wholeads' Map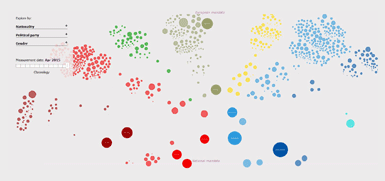 Click the image to identify a leader's position on Map
8.62
/10

8.57
/10

8.57
/10

% OF ALL SEARCHES/ MENTIONS
0.0456

Click on tabs to turn off individual graphs
Click to come back and forth on graph
Latest news about a leader
Hogan remains steadfast that any Mercosur deal must be 'balanced'
Tuesday, February 20, 2018 03:16:00 PM
The European Commissioner for Agriculture Phil Hogan and his Trade colleague Cecilia Malmstrom will travel South America to see what progress can be made on a Mercosur trade deal. However, he did not commit to a deal being reached by early March, as some commentators had predicted was likely.
Mexico aims for EU free-trade deal by end of February
Wednesday, February 07, 2018 06:21:00 PM
European Trade Commissioner Cecilia Malmstrom addresses a news conference at the EU Commission headquarters in Brussels August 4, 2015. Mexico believes it can conclude a new free-trade agreement with the EU before the end of February. — Reuters pic BRUSSELS, Feb 7 — Mexico believes it can conclude a....
EU Agriculture and Trade commissioners at odds over increasing Mercosur beef access
Tuesday, January 30, 2018 09:51:00 AM
Agriculture Commissioner Phil Hogan is strongly resisting a higher figure, but trade commissioner Cecilia Malmström is willing to go beyond 100,000 tons. A long-awaited major trade deal between the EU and Mercosur may this week take a key step towards realization with ministerial teams from both sides meeting in Brussels on Monday.
Asian sweatshop fears threaten EU's trade momentum
Tuesday, January 23, 2018 06:45:00 AM
Europe's trade chief Cecilia Malmström is running into a formidable obstacle as she tries to rack up free-trade agreements across Asia: workers' rights. An accord with Vietnam, seen as her first big coup when it was finalized in 2015, now risks being kicked into the legislative deep freeze because....
Tweets
Thu Feb 22 18:35:13 +0000 2018
"1 Jul 2016 - The EU Trade Commissioner Cecilia Malmstrom told BBC Newsnight the UK cannot begin negotiating trade… https://t.co/Ralzkjyiyp
Tue Feb 20 11:25:01 +0000 2018
Discover the Letter and Reply: Reply from Commissioner @MalmstromEU, regarding #CETA – ratification of the agreemen… https://t.co/z4o6Uszvs5