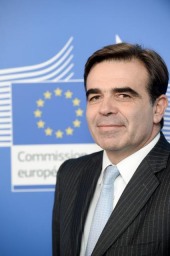 Margaritis Schinas
age: 56 years

European People's Party

Greece

EC Chief Spokesperson - Deputy-Director General DG COMM
Related to
Ranking among leaders of her/his own ...
Leader's Positon on Wholeads' Map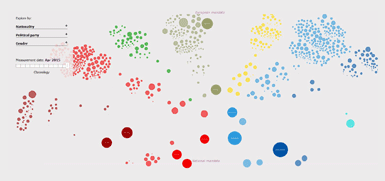 Click the image to identify a leader's position on Map
9.38
/10

8.79
/10

9.55
/10

% OF ALL SEARCHES/ MENTIONS
0.1956

Click on tabs to turn off individual graphs
Click to come back and forth on graph
Latest news about a leader
Theresa May to address Commons as Brexit talks hit roadblock over Irish border backstop
Monday, October 15, 2018 04:58:00 PM
Downing Street has insisted that the Prime Minister remains "confident" of getting a Brexit deal, despite the failure to bridge differences over the future of the Irish border ahead of this week's crunch summit. European Commission spokesman Margaritis Schinas said: "Despite intensive negotiations several key issues remain unresolved.
1 min 2 EU officials warned to prepare for no-deal Brexit
Friday, October 12, 2018 12:56:00 AM
EU Brexit pointman Michel Barnier and Martin Selmayr, the powerful head of the EU Commission's bureaucracy, briefed commissioners on progress just a week before the October 18 meeting that has been dubbed a "moment of truth." According to spokesman Margaritis Schinas, Barnier "recalled that decisive....
EU says 'we are not there yet' on Brexit deal
Thursday, October 11, 2018 02:40:00 PM
BRUSSELS (Reuters) - There is "no breakthrough yet" in the European Union's divorce talks with Britain, a spokesman for the bloc's executive arm in Brussels said on Thursday. "We are not there yet. There is no breakthrough — yet," European Commission chief spokesman Margaritis Schinas told a regular news briefing on Thursday.
Commission president says Rome must find way to respect rules
Tuesday, October 09, 2018 04:24:00 PM
Brussels, October 9 - European Commission President Jean-Claude Juncker and Italian Lower House Speaker Roberto Fico met for talks on Tuesday following the recent tension between Rome and Brussels over the Italian government's budget plans. "It was a good meeting, a moment to cool the temperature," Commission Spokesperson Margaritis Schinas said.
The Latest: EU advises thorough probe of reporter's slaying
Monday, October 08, 2018 07:31:00 PM
The executive arm of the European Union says the investigation of the slaying of a Bulgarian television journalist must be meticulous and undertaken quickly. European Commission spokesman Margaritis Schinas said the commission expected "a swift and thorough investigation" of Viktoria Marinova's....
Tweets