Paschal Donohoe
age: 44 years

European People's Party

Ireland

Finance Minister of Ireland
Related to
Ranking among leaders of her/his own ...
Leader's Positon on Wholeads' Map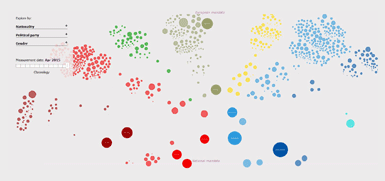 Click the image to identify a leader's position on Map
8.24
/10

8.85
/10

7.07
/10

% OF ALL SEARCHES/ MENTIONS
0.0312

Click on tabs to turn off individual graphs
Click to come back and forth on graph
Latest news about a leader
17:23 'Managed no deal' not an alternative to Brexit agreement, Government says
Tuesday, February 05, 2019 07:53:00 PM
Paschal Donohoe said there was "no such thing" as a so-called "managed no deal" that is being touted by some in London as an alternative to the deal reached between the UK and the EU. The EU's stance is that the UK cannot be allowed to reduce the impact of leaving the EU without a deal by trying to enter into other deals.
State agency aims to fund thousands of properties
Tuesday, January 29, 2019 02:05:00 AM
A new state agency aims to deliver 7,500 new homes through the provision of up to €1.5 billion of senior debt funding to small-to-medium sized builders. Home Building Finance Ireland (HBFI) was launched yesterday, three months after it was announced by Paschal Donohoe, the finance minister, as part of Budget 2019.
Government to engage 'fully' with OECD on digital tax, Donohoe says
Friday, January 25, 2019 02:01:00 PM
The Government, which has refused to sign up to an EU digital tax plan, will engage "fully" with the wider Organisation for Economic Co-operation and Development (OECD) as it looks to lay the foundations for an international tax on technology groups from as soon as next year, according to Minister for Finance Paschal Donohoe.
No 'free ride' for Irish tax at Davos
Friday, January 25, 2019 09:14:00 AM
Finance Minister Paschal Donohoe has denied claims Ireland's corporate tax regime is giving it "a free ride" as he reiterated opposition to any new attempt to usher in an EU-wide digital tax. Speaking on a panel at the annual gathering of corporate leaders and politicians at the Swiss ski resort of....
Under siege: world leaders take 'tax haven' swipe at us
Friday, January 25, 2019 05:11:00 AM
Taoiseach Leo Varadkar and Finance Minister Paschal Donohoe were yesterday forced in front of the world's most influential people at the World Economic Forum in Davos to defend how this country taxes big companies. Criticism from world leaders highlighted how Ireland's international image has become inextricably linked with our tax regime.
Tweets