Paschal Donohoe
age: 43 years

European People's Party

Ireland

Finance Minister of Ireland
Related to
Ranking among leaders of her/his own ...
Leader's Positon on Wholeads' Map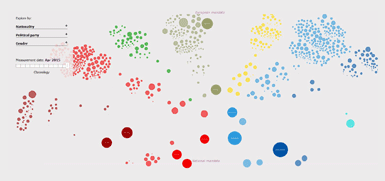 Click the image to identify a leader's position on Map
8.24
/10

8.85
/10

7.07
/10

% OF ALL SEARCHES/ MENTIONS
0.0312

Click on tabs to turn off individual graphs
Click to come back and forth on graph
Latest news about a leader
Economy in cruise control but stormier skies ahead
Saturday, August 04, 2018 06:26:00 AM
Minister for Finance Paschal Donohoe: he has plenty to ponder ahead of announcing Budget 2019 in October. Photograph: Nick Bradshaw The Irish economy may resemble a Boeing 747 in cruise control these days, but there were warnings this week that the State is "relying on one big engine as we fly into much stormier skies".
Ireland open to new proposal on Brexit border
Friday, July 20, 2018 04:04:00 PM
The Irish government is open to the possibility of a fresh proposal for a deal on the Irish border but, in a blow to Theresa May , says it will consider a new plan only if it is better than the one currently on the table. The Irish finance minister, Paschal Donohoe, made his comment hours after the....
Republic's EU contributions based on 'distorted figures'
Wednesday, July 11, 2018 10:39:00 PM
PAC urges Paschal Donohoe to pursue a legal basis for adoption of alternative measures. Ireland's contribution to the EU budget is forecast to be around €2.7bn this year. File photograph: Francois Lenoir/Reuters The Republic's annual contributions to the EU budget are based on distorted figures, the has claimed.
Donohoe to reveal plans for corporate tax reforms
Wednesday, June 27, 2018 05:41:00 AM
Paschal Donohoe will publish an action plan based on the recommendations of the Coffey report on corporation tax by the end of next week. The action plan will be released by the finance minister alongside the annual "roadmap" on taxation, which signals tax changes ahead of the budget.
Minster Donohoe to resist spending €3.2bn
Tuesday, June 19, 2018 03:25:00 AM
Finance Minister Paschal Donohoe is likely to implement measures in a bid to avoid the economy overheating. Today, the Cabinet is set to agree a summer economic statement (SES) which will outline the deficit the Government's plans to target next year and the budgetary package that will accommodate reaching that target.
Tweets