Paschal Donohoe
age: 44 years

European People's Party

Ireland

Finance Minister of Ireland
Related to
Ranking among leaders of her/his own ...
Leader's Positon on Wholeads' Map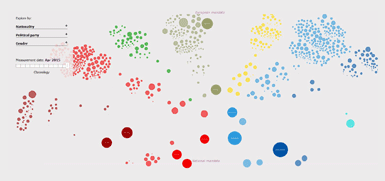 Click the image to identify a leader's position on Map
8.24
/10

8.85
/10

7.07
/10

% OF ALL SEARCHES/ MENTIONS
0.0312

Click on tabs to turn off individual graphs
Click to come back and forth on graph
Latest news about a leader
No deal poses grave risk to Irish economy - Donohoe
Tuesday, December 11, 2018 08:14:00 PM
Minister for Finance Paschal Donohoe has said that a no-deal Brexit would pose a grave risk for all involved and would be an exceptionally serious development for the Irish economy. Speaking in Washington, Mr Donohoe said the Government has been working with the European Commission on how best to....
IPE Conference: Irish government wants to lead in green finance
Thursday, December 06, 2018 09:11:00 PM
With the Irish economy having recovered after the financial crisis, its government now wants to "set apart Ireland" in the field of green finance. "We want to establish an expertise and a proven track record in green finance," the country's finance minister, Paschal Donohoe, told delegates at the IPE Conference in Dublin yesterday.
Nama wind-up date delayed by a year, Dáil hears
Thursday, November 22, 2018 09:34:00 PM
Finance Minister Paschal Donohoe has indicated the National Asset Management Agency will not now be wound up at the end of 2020. The agency was set up after the economic crash to buy up risky property loans from Irish bailed-out lenders. It is expected to be in a position to return €3.5bn to the State when its work is complete.
Ikea's Irish sales, new tax compliance unit, and EU digital tax
Wednesday, November 07, 2018 08:48:00 AM
Business Today: best news, analysis and comment from 'Irish Times' business desk. Minister for Finance Paschal Donohoe has much to ponder as the European Commission, France and the Austrian presidency push for acceptance on an EU digital sales tax. Photograph: Nick Bradshaw Swedish home furnishings giant Ikea achieved Irish sales of €181.
Ireland remains opposed to EU digital sales tax while Germans seek delay
Tuesday, November 06, 2018 11:47:00 PM
Ireland remains opposed to a digital sales tax for the European Union while Germany wants to delay a decision until a new report by the Organisation for Economic Co-operation and Development is delivered in the summer of 2020. Minister for Finance Paschal Donohoe firmly expressed Ireland's....
Tweets