Paschal Donohoe
age: 44 years

European People's Party

Ireland

Finance Minister of Ireland
Related to
Ranking among leaders of her/his own ...
Leader's Positon on Wholeads' Map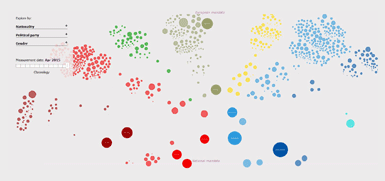 Click the image to identify a leader's position on Map
8.24
/10

8.85
/10

7.07
/10

% OF ALL SEARCHES/ MENTIONS
0.0312

Click on tabs to turn off individual graphs
Click to come back and forth on graph
Latest news about a leader
Airbnb shut out of rent-a-room relief
Friday, October 19, 2018 02:43:00 AM
Eamon Quinn and Geoff Percival. Finance Minister Paschal Donohoe moved to shore up the short-term lettings incentive so home-owners using Airbnb and other tourism rental platforms do not benefit from the tax exemption granted under the existing rent-a-room relief.
Commission withdraws court action over Apple tax delays
Thursday, October 18, 2018 10:04:00 PM
The Commission said it was dropping the action after confirmation by Ireland that the money had been paid. Last month Minister for Finance Paschal Donohoe said that Apple has deposited in full the money owed into an escrow account set up by the Government. Apple deposited a total of €14.
State is storing up trouble by being windy on climate change
Thursday, October 11, 2018 04:35:00 AM
Perhaps it was the backlash from rural Ireland or the voices of the Independent Alliance TDs which convinced Paschal Donohoe that hiking carbon tax, diesel, and other measures might be election-day lunacy. Equally, it might have been Brexit. Increases in fuel, heating and transport costs hit businesses as much as they do consumers.
Donohoe taxed by Apple and Google
Sunday, September 30, 2018 02:14:00 AM
Google and Apple held direct meetings with the finance minister Paschal Donohoe in recent months to lobby the state on tax issues. Claire Thwaites, a senior director of European and Russian government affairs at Apple, had a meeting with Donohoe on May 14, according to a return just filed on the state's lobbying register.
Apple Pays 14 Bln Euros In Taxes And Interest To Ireland
Wednesday, September 19, 2018 10:09:00 PM
(RTTNews) - Apple has paid 14.3 billion euros to Irish government in back taxes and interest after the European Commission ruled that a tax arrangement between the tech giant and Ireland had broken state aid rules. Ireland's Minister for Finance and Public Expenditure and Reform, Paschal Donohoe,....
Tweets