Paschal Donohoe
age: 45 years

European People's Party

Ireland

Finance Minister of Ireland
Related to
Ranking among leaders of her/his own ...
Leader's Positon on Wholeads' Map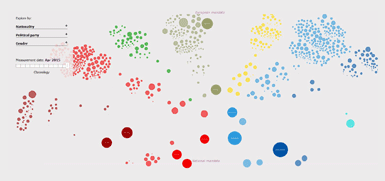 Click the image to identify a leader's position on Map
8.24
/10

8.85
/10

7.07
/10

% OF ALL SEARCHES/ MENTIONS
0.0312

Click on tabs to turn off individual graphs
Click to come back and forth on graph
Latest news about a leader
Budget 2020 plans get green light from EU commission
Wednesday, November 20, 2019 01:46:00 PM
Paschal Donohoe's budget has been given a clean bill of health by the European Commission in its annual assessment of member state budget plans. The commission on Wednesday endorsed the recommendations of its services on euro countries' draft budgetary plans, finding nine states ( , the Netherlands....
Irish corporate tax intake surpasses expectations
Thursday, November 14, 2019 11:25:00 AM
Irish Minister for Finance and Public Expenditure Paschal Donohoe speaks to media as he arrives for the Eurogroup meeting in Luxembourg, 13 June 2019. The Eurogroup will discuss inequality in the eurozone, based on the European Commission analysis and also will have a presention of the outcome of....
Ministers to hold talks with Midlands ESB workers over peat plant closures
Monday, November 11, 2019 10:04:00 AM
THREE GOVERNMENT MINISTERS will meet today with the workers of two peat-burning ESB plants which are set to close in the Midlands next year. Ministers Richard Bruton, Paschal Donohoe and Josepha Madigan will meet with Bord na Móna and ESB workers in Offaly and Longford to discuss the government's so-called 'Just Transition' plan for the region.
Farm supports not enough to protect against potential 'agricultural armaggedon'
Tuesday, October 08, 2019 07:55:00 PM
will come as a "profound disappointment" to farmers, according to the agricultural lobby, which accused the Government of not doing enough to avoid an "agricultural armaggedon". Minister for Finance Paschal Donohoe announced a €110 million no-deal Brexit support package for the , and a separate increase of €51 million in exchequer funding.
As it happened: Paschal Donohoe unveils 'absolutely no surprises' Budget 2020
Tuesday, October 08, 2019 05:53:00 PM
26 mins ago. Strong words from The Irish Farmers Association which has said that Ireland faces an "agricultural Armageddon". "While the €110m committed to the Dept of Agriculture for next year is a step forward, much more will be needed now as farmers are already suffering huge losses due to Brexit uncertainty," IFA president Joe Healy said.
Tweets
Sorry, no tweets available for this leader