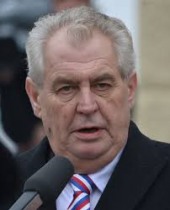 Milos Zeman
age: 73 years

Party of European Socialists

Czech Republic

President of the Czech Republic
Related to
Ranking among leaders of her/his own ...
Leader's Positon on Wholeads' Map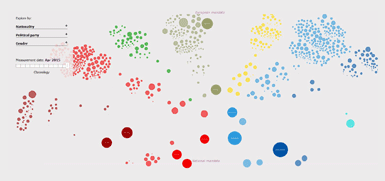 Click the image to identify a leader's position on Map
9.07
/10

9.37
/10

8.71
/10

% OF ALL SEARCHES/ MENTIONS
0.0935

Click on tabs to turn off individual graphs
Click to come back and forth on graph
Latest news about a leader
Daily news summary 23.5.2018
Wednesday, May 23, 2018 04:09:00 PM
President Miloš Zeman says he will appoint Andrej Babiš prime minister no matter what the outcome of the Social Democrat's referendum on whether to take part in a coalition government with ANO. The Czech president made the statement on Wednesday at the Žofín economic forum in Prague.
Senate approves new EU rules for genetic sources
Friday, May 18, 2018 10:22:00 AM
Prague, May 17 (CTK) - The Czech Senate approved the government-proposed bill introducing more accurate rules for the use of genetic sources according to EU regulations on Thursday. The legislation defines the circumstances of sending the collections of genetic sources to the EU register. It is yet to be signed by President Milos Zeman.
Zeman: Poland has right to felling in Bialowieza Forest
Friday, May 11, 2018 08:31:00 AM
Warsaw, May 10 (CTK special correspondent) - Poland has the right to deal with its raw materials, including forests, President Milos Zeman, now on a visit to Poland, told journalists on Thursday, speaking about the feud between Poland and the European Commission over the tree cutting in the Bialowieza Forest.
President Zeman to visit Poland next week
Wednesday, May 02, 2018 09:55:00 AM
Prague, April 30 (CTK) - President Milos Zeman will pay an official visit to Poland on May 9-11 and meet Polish top political representatives including President Adrzej Duda, Czech Presidential Office foreign affairs section head Rudolf Jindrak told CTK.
Daily news summary 11.4.2018
Wednesday, April 11, 2018 04:10:00 PM
President Miloš Zeman has recommended that ANO leader Andrej Babiš discuss forming a government with the Communist Party and Tomio Okamura's Freedom and Direct Democracy. Mr. Babiš conveyed the president's position to journalists after a meeting between the two on Tuesday evening. The ANO chief said Mr.
Tweets