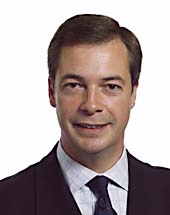 Nigel Farage
age: 55 years

Europe of Freedom and Direct Democracy

United Kingdom

MEP - Chair of the EFD EP group
Related to
Ranking among leaders of her/his own ...
Leader's Positon on Wholeads' Map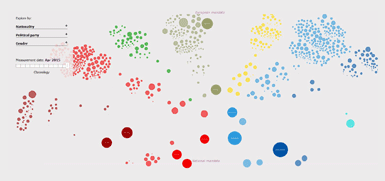 Click the image to identify a leader's position on Map
9.62
/10

9.19
/10

9.92
/10

% OF ALL SEARCHES/ MENTIONS
0.4890

Click on tabs to turn off individual graphs
Click to come back and forth on graph
Latest news about a leader
Time called on plan to have Big Ben bong for Brexit
Friday, January 17, 2020 05:16:00 PM
The usual suspects in the UK were in full outrage mode this week as, first, Union Jack flags were removed from desks in the European Parliament, and, then, moves to have Big Ben chime on Brexit day were stymied. Brexit Party leader Nigel Farage was – shockingly – particularly vocal on both of these important issues.
Last choucroute in Strasbourg: Brit MEPs say goodbye
Thursday, January 16, 2020 06:13:00 AM
STRASBOURG — Some will miss the European Parliament; others have always hated everything it stands for. But there's one thing British MEPs seem to agree on: They've had a good time. Even the Brexiteers' Brexiteer, Nigel Farage, said he will miss "the drama" and "theater" of the Parliament.
Nigel Farage gets his way, and last laugh: Brexit is coming
Tuesday, January 14, 2020 08:02:00 PM
Catalonia's former regional president Carles Puigdemont, left, shakes hands with British politician Nigel Farage prior to a plenary session at the European Parliament in Strasbourg, eastern France, Monday, Jan. 13, 2020. Puigdemont will attend his first session as a member of the European Parliament....
Nigel Farage: I'm not sure I can face another uphill battle against our corrupt Establishment
Saturday, January 11, 2020 08:03:00 AM
W ith just 20 days to go until the UK leaves the European Union, some might say Nigel Farage ought to be in high spirits. The bill allowing the UK to leave the EU passed its third reading in the House of Commons this week, with a 99 majority. Instead, for the Brexit Party MEP, it feels like an aptly bumpy end to a turbulent chapter.
Nigel Farage celebrates UK leaving 'prison of nations' as he mocks 'dull' von der Leyen
Thursday, December 19, 2019 05:45:00 AM
delivered a brilliant speech to the European Parliament, where he celebrated the finally being able to leave the 's "prison of nations". The Brexit Party leader also mocked the EU's Chief negotiator, Michel Barnier , and new President of the European Commission, Ursula von der Leyen as "faceless bureaucrats" who are "dull as dishwater".
Tweets
Sorry, no tweets available for this leader