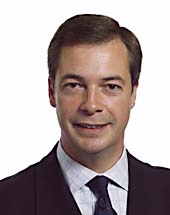 Nigel Farage
age: 54 years

Europe of Freedom and Direct Democracy

United Kingdom

MEP - Chair of the EFD EP group
Related to
Ranking among leaders of her/his own ...
Leader's Positon on Wholeads' Map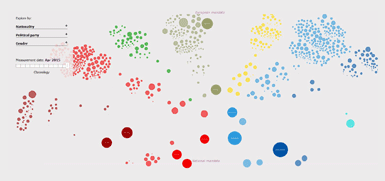 Click the image to identify a leader's position on Map
9.62
/10

9.19
/10

9.92
/10

% OF ALL SEARCHES/ MENTIONS
0.4890

Click on tabs to turn off individual graphs
Click to come back and forth on graph
Latest news about a leader
Nigel Farage labels Brexit 'worst deal in history'
Thursday, November 15, 2018 10:18:00 PM
Nigel Farage has slammed Theresa May's Brexit deal as "the worst deal in history", saying she cannot "survive as Prime Minister". Theresa May is fighting for her political life today after Brexiteers effectively declared war - with Cabinet ministers quitting and an all-out bid to oust her.
Every EU country has a 'Farage' seeking to demolish Europe, warns Barnier
Thursday, November 08, 2018 02:27:00 PM
The EU's chief Brexit negotiator has warned of the need to fight political forces which want to "demolish" Europe, saying that all of the continent's countries now have an equivalent of Ukip's Nigel Farage. Michel Barnier told a conference of the centre-right European People's Party (EPP) in Finland....
How Nigel Farage became leader of the Conservative Party
Thursday, November 01, 2018 12:47:00 AM
It was "common sense" for Britain to stay in Europe, Margaret Thatcher declared, launching the 1975 Conservative "Yes to Europe" campaign wearing her famous "Yes to Europe" jumper. "It seems to me," she said, "to display an amazing lack of self-confidence in Britain … to think that, when no other....
Nigel: Italy's Salvini must not give in to EU gangsters
Wednesday, October 31, 2018 09:57:00 AM
Nigel Farage has urged Italian Deputy Prime Minister Matteo Salvini not to "give in" as the country's government remains on a collision course with the European Union. It comes after the unelected EU Commission made the astonishing decision to block the Italian budget.
Mick Whelan: 'We supported Brexit but it's not turning out as we were promised'
Tuesday, October 30, 2018 08:34:00 AM
Aslef backed Brexit – the campaign to leave the EU – in the referendum in Britain in 2016. Not because we wanted to stand shoulder to shoulder with Nigel Farage – a man we had, and have, nothing in common, politically, industrially, or ideologically, writes Mick Whelan, the union's general secretary.
Tweets