Dalia Grybauskaite
age: 63 years

European People's Party

Lithuania

President of Lithuania
Related to
Ranking among leaders of her/his own ...
Leader's Positon on Wholeads' Map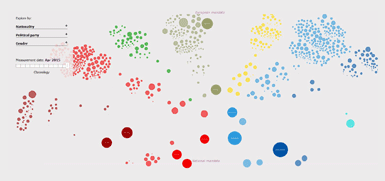 Click the image to identify a leader's position on Map
9.30
/10

9.46
/10

9.04
/10

% OF ALL SEARCHES/ MENTIONS
0.1516

Click on tabs to turn off individual graphs
Click to come back and forth on graph
Latest news about a leader
Foreign Minister: CEE nations underrepresented in top-level EU appointments
Thursday, July 04, 2019 01:03:00 PM
Foreign minister Urmas Reinsalu (Isamaa) says that while he was unaware whether former prime minister and outgoing European Commissioner Andrus Ansip was ever on the table for the commission presidency, he could say that Jüri Ratas (Centre), the current prime minister, picked Lithuanian President Dalia Grybauskaitė as his nomination.
Lithuanian president signs law on Baltic grid synchronization project
Thursday, June 27, 2019 04:16:00 PM
VILNIUS, June 27 (Xinhua) -- Lithuanian President Dalia Grybauskaite on Thursday signed a package of legal acts adopted earlier by the Parliament, which aim at ensuring the smooth synchronization of the country's electricity networks with those of mainland Europe.
Poland, Baltic states agree on power grid link-up
Thursday, June 20, 2019 10:01:00 PM
Polish Prime Minister Mateusz Morawiecki and Lithuanian President Dalia Grybauskaite during the signing of the "Political Roadmap on Implementing the Synchronisation of the Baltic States' Electricity Networks with the Continental European Network via Poland" document in Brussels on Thursday. Photo: PAP/Paweł Supernak.
Tweets