Sebastian Kurz
age: 31 years

European People's Party

Austria

Foreign Affairs Minister of Austria
Related to
Ranking among leaders of her/his own ...
Leader's Positon on Wholeads' Map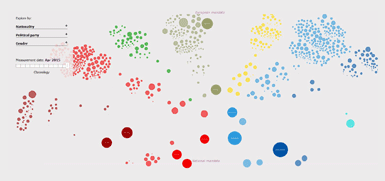 Click the image to identify a leader's position on Map
9.42
/10

9.45
/10

9.38
/10

% OF ALL SEARCHES/ MENTIONS
0.2265

Click on tabs to turn off individual graphs
Click to come back and forth on graph
Latest news about a leader
Brexit GAME PLAN: Five tactics Theresa May can use to SAVE Brexit - including one EU FEARS
Tuesday, August 07, 2018 09:17:00 AM
Article 50 extension. The most undesirable method, on either side of the Channel, for avoiding a no deal but one that remains on the table after Austrian Chancellor Sebastian Kurz hinted that an extension could be used to avoid a hard Brexit. At a Vienna press conference the young leader was questioned about the final stages of the negotiations.
More EU leaders rail against May's Brexit plan
Friday, July 27, 2018 01:31:00 PM
Today as Mrs May flew to Salzburg for talks with Sebastian Kurz, the Austrian Chancellor, as well as Andrej Babis, her counterpart from the Czech Republic, his colleague, Ales Chmelar, the Czech State Secretary for European affairs, also made clear the PM's plan was unacceptable.
Theresa May seeking to 'PRISE APART' EU despite resistance from Michel Barnier
Friday, July 27, 2018 08:19:00 AM
The Prime Minister is travelling to Austria today to hold crunch Brexit talks with Austrian Chancellor Sebastian Kurz, in order to drum up support for her Brexit proposal finalised at Chequers. Newsnight political editor Nicholas Watt noted the Prime Minister was targeting Mr Kurz as Austria holds the rotating presidency of the European Union.
Ireland support for May's Brexit progress
Tuesday, July 10, 2018 06:30:00 PM
Taoiseach Leo Varadkar made his remarks regarding the Brexit progress at Dublin Castle earlier this week following a visit by Austrian Chancellor Sebastian Kurz, whose government has assumed the rotating EU Presidency – Ireland support for May's Brexit progress – But it could all fall apart from Tory in-fighting.
Tweets