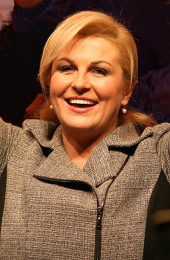 Kolinda Grabar-Kitarovic
age: 51 years

European People's Party

Croatia

President of Croatia
Related to
Ranking among leaders of her/his own ...
Leader's Positon on Wholeads' Map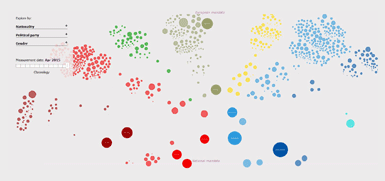 Click the image to identify a leader's position on Map
8.56
/10

8.78
/10

8.21
/10

% OF ALL SEARCHES/ MENTIONS
0.0439

Click on tabs to turn off individual graphs
Click to come back and forth on graph
Latest news about a leader
'Croatia will continue to turn back migrants at the border'
Monday, January 13, 2020 02:32:00 PM
Zoran Milanovic, the social democrat who to everyone's surprise was elected president of Croatia on Sunday, January 5, advocates a return to a "normal Croatia" as opposed to the "genuine" and nationalist Croatia championed by outgoing conservative president Kolinda Grabar-Kitarovic.
There Is no Bosnia and Herzegovina without Croats
Saturday, December 21, 2019 08:47:00 AM
The most contested presidential elections in the history of independent Croatia has produced the first female president. This is also the first head of state of the conservative Croatian Democratic Union (HDZ) in 15 years. Kolinda Grabar-Kitarovic has won a thin victory of some 30 000 votes, mainly....
Philippines and India agree to strengthen defense, security ties
Sunday, October 20, 2019 06:38:00 AM
ABU DHABI: After months of official denials, Croatia's leader finally admitted in an interview with Swiss television this year that her government had been pushing undocumented immigrants across the border into Bosnia. President Kolinda Grabar-Kitarovic said that a small amount of violence and a....
President Not Worried by Delay on Decision on Croatia's Schengen Accession
Saturday, October 12, 2019 10:26:00 AM
ZAGREB, October 12, 2019 - President Kolinda Grabar-Kitarović said on Friday she did not consider the second postponement of a decision by the European Commission (EC) on Croatia's technical preparedness to join the Schengen Area to be a "big delay" and recalled that the Union was now burdened with Brexit.
State Delegations Lay Wreaths on Independence Day
Tuesday, October 08, 2019 04:56:00 PM
ZAGREB, October 8, 2019 - High state delegations on Tuesday laid wreaths at Zagreb's central cemetery of Mirogoj on the occasion of Independence Day, October 8. Prime Minister Andrej Plenković, Parliament Speaker Gordan Jandroković, and the envoy for President Kolinda Grabar-Kitarović, Anamarija....
Tweets
Sorry, no tweets available for this leader