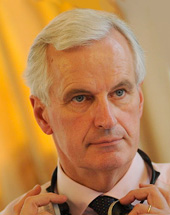 Michel Barnier
age: 67 years

European People's Party

France

EC Chief Negotiator in charge of Brexit
Related to
Ranking among leaders of her/his own ...
Leader's Positon on Wholeads' Map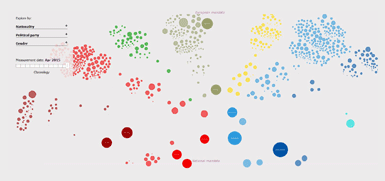 Click the image to identify a leader's position on Map
9.92
/10

9.90
/10

9.90
/10

% OF ALL SEARCHES/ MENTIONS
2.1368

Click on tabs to turn off individual graphs
Click to come back and forth on graph
Latest news about a leader
[WATCH[ Ball is in British hands, Joseph Muscat says on Brexit deal
Friday, November 16, 2018 02:31:00 PM
The ball is in the court of the British government and parliament, Joseph Muscat says as he welcomes the Brexit deal negotiated by the EU's chief negotiator, Michel Barnier. The Maltese Prime Minister would not speculate on the happenings in the UK as Theresa May's government faces struggles on all....
EU and UK set to sign Brexit deal on Nov 25
Friday, November 16, 2018 05:21:00 AM
European Council president Donald Tusk announced that he expects Theresa May to sign the final deal in Brussels on that day. At a press conference with the EU's Brexit negotiator Michel Barnier, Tusk reiterated his view that Brexit is a "lose-lose" situation and the negotiations only represent "damage control".
Brexit: Brussels keeping calm and carrying on
Friday, November 16, 2018 05:21:00 AM
Michel Barnier, the EU Chief Brexit negotiator, said this: 'We reached an important step last night in the Brexit negotiations. But there is a long road ahead in order to build our future." The EU also defended the deal as the best one, echoing Theresa May's comments from Downing Street.
EU Set for First Talks with UK's New Brexit Secretary
Thursday, November 15, 2018 10:32:00 PM
The UK's new Secretary for Brexit Dominic Raab is heading on Thursday for his first talks with the EU's chief Brexit negotiator Michel Barnier. Raab replaced his predecessor David Davis last week, as the latter resigned from the Cabinet of British Prime Minister Theresa May in disagreement with much of the Cabinet.
EU summit to endorse Brexit deal to take place on November 25
Thursday, November 15, 2018 09:37:00 PM
Źródło: Reuters Michel Barnier and Donald Tusk present the text of Brexit agreement reached between Britain and the EU European Union leaders will meet on November 25 to endorse the divorce deal with Britain and a political declaration on the future relationship, the chairman of EU summits Donald Tusk said on Thursday.
Tweets