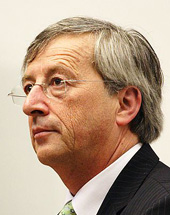 Jean-Claude Juncker
age: 64 years

European People's Party

Luxembourg

President of the European Commission
Related to
Ranking among leaders of her/his own ...
Leader's Positon on Wholeads' Map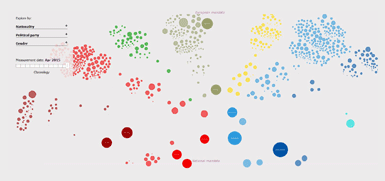 Click the image to identify a leader's position on Map
9.97
/10

9.94
/10

9.97
/10

% OF ALL SEARCHES/ MENTIONS
4.3160

Click on tabs to turn off individual graphs
Click to come back and forth on graph
Latest news about a leader
Six EU members back new methodology, insist on start of negotiations in March
Tuesday, November 19, 2019 05:59:00 PM
In a letter addressed to the European Commission President, Jean-Claude Juncker, the foreign ministers of six EU members agree that the methodology of negotiations needs improvement, insisting that enlargement must remain a viable perspective and that North Macedonia and Albania must be allowed to start negotiations in March 2020.
Junker to stay as EU chief until next year amid EU chaos - BBC's Katya Adler
Monday, November 18, 2019 10:45:00 AM
BBC's Katya Adler insisted it could soon be announced that Jean-Claude Juncker will stay on as President of the EU commission to the end of the year rather than give way to Ursula von der Leyen. While on Brexitcast Ms Adler said: "I think we will very soon possibly find out, as we talked about the....
Eco groups rally as EU Commission threatens vital nature laws
Saturday, November 16, 2019 03:30:00 AM
Over 90 environmental NGOs across Europe are calling on all citizens across the EU to take part in a joint pan-European online action to save European nature from European Commission President Jean-Claude Juncker's deregulation agenda. Through this joint online action "Nature Alert", all citizens of....
Irish PM says EU-UK free-trade deal possible by end: 2020
Friday, November 15, 2019 03:24:00 PM
Ireland's Prime Minister (Taoiseach) Leo Varadkar speaks during a joint news conference with European Commission President Jean-Claude Juncker, European Council President Donald Tusk and European Union's chief Brexit negotiator Michel Barnier at the European Union leaders summit, in Brussels, Belgium October 17, 2019.
European Investment Bank to cease funding fossil fuel projects by end-2021
Friday, November 15, 2019 01:17:00 AM
European Investment Bank President Werner Hoyer speaks during a joint news conference with European Commission President Jean-Claude Juncker at the EC headquarters in Brussels July 18, 2018. — Reuters pic. BRUSSELS, Nov 15 — The European Investment Bank said yesterday it would stop funding fossil....
Tweets
Sorry, no tweets available for this leader