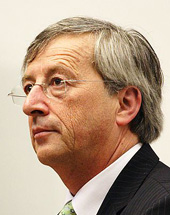 Jean-Claude Juncker
age: 64 years

European People's Party

Luxembourg

President of the European Commission
Related to
Ranking among leaders of her/his own ...
Leader's Positon on Wholeads' Map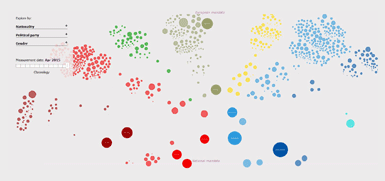 Click the image to identify a leader's position on Map
9.97
/10

9.94
/10

9.97
/10

% OF ALL SEARCHES/ MENTIONS
4.3160

Click on tabs to turn off individual graphs
Click to come back and forth on graph
Latest news about a leader
Trump Says Juncker Is a Gent But Vestager Hates the U.S.
Wednesday, June 26, 2019 09:42:00 PM
(Bloomberg) -- Donald Trump would rather have Mario Draghi at the Fed than Jerome Powell. And he thinks European Commission President Jean-Claude Juncker is "a fantastic gentleman."But there's at least one person in Brussels he can't stand."You have a woman in Europe, I won't mention her name," he said in an interview with Fox's Maria Bartiromo.
EU and Mercosur leaders to hold 'working dinner' tonight
Wednesday, June 26, 2019 07:34:00 PM
The event comes amid a backdrop of farmer fears over a possible agreement on quota-free access for up to 100,000t of beef. Last week, Taoiseach Leo Varadkar was among four European leaders to co-sign a letter outlining "deep concerns" over any deal with the South American trade bloc, sent to European Commission President Jean-Claude Juncker.
Varadkar 'flattered' by links to top EU job but has ' no plans for a career change'
Wednesday, June 26, 2019 07:00:00 PM
Taoiseach Leo Varadkar has said he is "flattered†to be linked to the role of the new president of the European Commission but that he plans to stay put in Ireland as Taoiseach. Answering questions about international reports he is being touted to succeed EC president Jean-Claude Juncker, Mr....
Undemocratic European Union
Wednesday, June 26, 2019 12:08:00 PM
Manfred Weber last night branded EU leaders and MEPs undemocratic after blocking his coronation as European Commission president. The German MEP, who is the bookmakers' favourite to succeed Jean-Claude Juncker, accused socialist and liberal politicians of ignoring last month's European election results.
Bulgarian Zlatev New Head of EC Representation in Zagreb
Wednesday, June 26, 2019 10:37:00 AM
ZAGREB, June 26, 2019 - The European Commission on Tuesday appointed Mr Ognian Zlatev as the new Head of the Commission's Representation in the Croatian capital of Zagreb to succeed Branko Baričević, who has been appointed an adviser to EC President Jean-Claude Juncker for the preparation of....
Tweets