Borut Pahor
age: 54 years

Party of European Socialists

Slovenia

President of the Republic of Slovenia
Related to
Ranking among leaders of her/his own ...
Leader's Positon on Wholeads' Map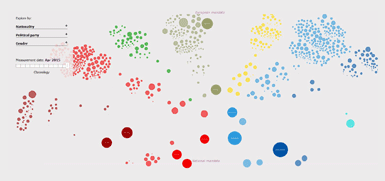 Click the image to identify a leader's position on Map
9.16
/10

9.42
/10

8.82
/10

% OF ALL SEARCHES/ MENTIONS
0.1168

Click on tabs to turn off individual graphs
Click to come back and forth on graph
Latest news about a leader
Pahor in Bled: Nationalist politics is stronger than ever
Monday, September 10, 2018 09:17:00 PM
The European Union is at a standstill, which can turn into a crisis if nationalist politics starts to prevail, said Slovenia's president Borut Pahor in his opening speech at the 13 th Bled Strategic Forum. 'For now, this is not the case. But it is stronger than ever. It is undergoing a surge,' he pointed out.
Europe briefing: Five stories to know about today
Wednesday, September 05, 2018 05:57:00 AM
Sisko secured 2.2% of the vote in presidential elections last year. He lost out to Borut Pahor, who has expressed concern at the existence of Sisko's armed group. "President Pahor stresses that Slovenia is a safe country in which no unauthorised person needs or is allowed to ...
Slovenian parliament hopes to pick PM in mid-August - speaker
Friday, July 27, 2018 03:40:00 PM
LJUBLJANA (Reuters) - Slovenia's parliament plans to vote from Aug. 13 to 17 to choose a prime minister - if the president or parliament put any names forward, parliament speaker Matej Tonin said on Friday. Tonin told parliament that President Borut Pahor and parliament have until Aug.
Slovenian president nominates no candidate for prime minister
Monday, July 23, 2018 12:43:00 PM
Slovenian President Borut Pahor told parliament on Monday he would nominate no candidate for prime minister as no party enjoys majority support in parliament. Slovenia held a national election on June 3, won by the anti-immigrant Slovenian Democratic Party (SDS). It lacks potential coalition partners to form a government.
Head of Slovenia's largest party tells president he cannot form government
Thursday, July 19, 2018 06:13:00 PM
The head of the largest party in Slovenia's parliament, the anti-immigrant Slovenian Democratic Party (SDS), told President Borut Pahor on Thursday he did not yet have sufficient support to become prime minister and form a government. Janez Jansa, who is also a former two-time prime minister, posted....
Tweets