Borut Pahor
age: 54 years

Party of European Socialists

Slovenia

President of the Republic of Slovenia
Related to
Ranking among leaders of her/his own ...
Leader's Positon on Wholeads' Map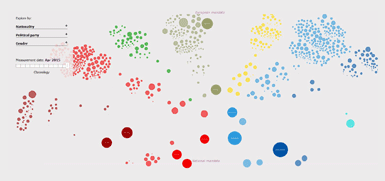 Click the image to identify a leader's position on Map
9.16
/10

9.42
/10

8.82
/10

% OF ALL SEARCHES/ MENTIONS
0.1168

Click on tabs to turn off individual graphs
Click to come back and forth on graph
Latest news about a leader
Pahor announces a meeting with Grabar-Kitarović
Saturday, April 28, 2018 03:34:00 PM
Slovenian president Borut Pahor and Croatian president Kolinda Grabar-Kitarović met in Skopje on Friday at the regular annual meeting of the Brdo – Brioni process. Pahor said that they agreed for him to visit Zagreb in May to discuss open issues between the two countries.
Slovene President Consults on Early Election After Premier Quits 16 minutes ago
Tuesday, March 20, 2018 01:35:00 PM
Slovenia's president began consultations with political parties over bringing forward summer parliamentary elections after Prime Minister Miro Cerar resigned last week. Borut Pahor is asking the euro-area country's political leaders in two days of talks if they want to bring forward the ballot,....
A former comedian tipped to become Slovenia's next prime minister said on Tuesday he would slash red tape to boost investment and shake up the electoral and judicial systems if his party wins June's national election. Marjan Sarec, 40, a n
Tuesday, March 06, 2018 10:10:00 PM
ewcomer to national politics, stunned Slovenians last November when he won 47 percent of the vote in a presidential run-off won by a former prime minister and acting president, Borut Pahor. His centre-left party, The List of Marjan Sarec, formed in 2014, has only about 300 members, but opinion polls....
Pahor in Kosovo: It's time to leave the region's past behind
Tuesday, February 13, 2018 09:15:00 AM
President of Slovenia, Borut Pahor said in Pristina, where he's holding an official visit on the occasion of the tenth anniversary of the independence of Kosovo, that time has come for leaders of Western Balkans to have friendly relations and trust each other, despite the differences, in order for them to be able to address pending issues.
Tweets