Andrej Kiska
age: 56 years

Slovakia

President of Slovakia
Related to
Ranking among leaders of her/his own ...
Leader's Positon on Wholeads' Map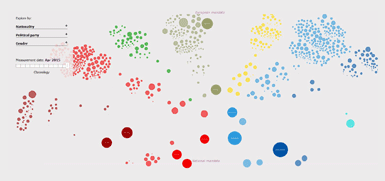 Click the image to identify a leader's position on Map
8.32
/10

7.71
/10

8.50
/10

% OF ALL SEARCHES/ MENTIONS
0.0341

Click on tabs to turn off individual graphs
Click to come back and forth on graph
Latest news about a leader
Zuzana Caputova inaugurated as 1st Slovak female president
Saturday, June 15, 2019 03:24:00 PM
Outgoing Slovak President Andrej Kiska accompanied by his wife Martina waves farewell in front of the Presidential Palace in Bratislava before new Slovak President Zuzana Caputova takes her presidential oath in Bratislava, Slovakia, Saturday, June 15, 2019.
EU chief Brexit negotiator Michel Barnier will speak in Bratislava
Wednesday, June 05, 2019 04:00:00 PM
The biggest security conference in central Europe has invited several top politicians from various countries. Apart from Slovak President Andrej Kiska and PM Peter Pellegrini, also Czech PM Andrej Babiš will be present, together with Serbian President Aleksandar Vučič, EU chief Brexit negotiator....
Andrej Kiska bids farewell to presidential foreign journeys
Friday, May 31, 2019 01:47:00 PM
31. 05. 2019 12:23. Slovak President Andrej Kiska attended a meeting with his Czech counterpart Milos Zeman at the Lany Chateau in the Czech Republic on Thursday. Kiska arrived in Lany as part of his farewell visit to the Czech Republic before the end of his tenure.
Outgoing president to found new party
Wednesday, April 03, 2019 03:56:00 PM
03. 04. 2019 14:29. President Andrej Kiska, whose term in office is due to expire in mid-June, announced in a video released on Wednesday morning that he plans to set up a political party within the next few months. "Slovakia wants change. We've won this [presidential] election, now we must win the general election.
Slovakia's first female president to take office this summer
Monday, April 01, 2019 07:30:00 PM
Muscat: Zuzana Caputova will take office as Slovakia's first female president on 15 June following her historic electoral victory. She will take the helm after the term of incumbent President Andrej Kiska expires. Caputova's victory caps a stunning rise for the lawyer and anti-corruption campaigner, who won the first round with 40.
Tweets