Philippe Lamberts
age: 55 years

European Green Party

Belgium

Co-chair of the EP Greens/EFA Group
Related to
Ranking among leaders of her/his own ...
Leader's Positon on Wholeads' Map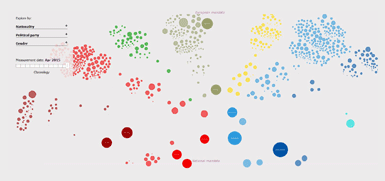 Click the image to identify a leader's position on Map
8.80
/10

7.16
/10

9.24
/10

% OF ALL SEARCHES/ MENTIONS
0.0567

Click on tabs to turn off individual graphs
Click to come back and forth on graph
Latest news about a leader
Romania: Police violence against peaceful protestors
Monday, August 13, 2018 01:34:00 AM
Following the recent events in Romania, Greens/EFA Co-Presidents Ska Keller and Philippe Lamberts comment: "The use of violence by the Romanian police against peaceful protestors is unacceptable. We stand with all those Romanians inside the country and coming from the diaspora who fight for democracy and against corruption.
European arrest warrant: ECJ ruling a 'stark warning' to Poland
Monday, July 30, 2018 04:39:00 PM
Philippe Lamberts says that a ruling by the European Court of Justice (ECJ) should serve as a "stark warning" to Poland as the country still finds itself at the centre of controversy over changes to its national legislation. Philippe Lamberts | Photo credit: European Parliament audiovisual This....
Future of Europe debate with Xavier Bettel
Wednesday, May 30, 2018 11:19:00 AM
The European Parliament is today holding a debate with the Prime Minister of Luxembourg, Xavier Bettel, on the Future of Europe. Greens/EFA group co-president Philippe Lamberts will speak for the group. In his speech, he will say that Luxembourg's commitment to European integration is undermined by its aggressive tax policies.
Feeble EU format deflates Zuckerberg 'hearing'
Wednesday, May 23, 2018 10:37:00 AM
"I want to be sensitive to time because we are 15 minutes over," he said, after answering questions for less than half an hour. When Zuckerberg said he felt he had answered most questions, some MEPs got angry. "I asked you six yes-or-no questions, I got not a single answer," said Green Belgian MEP Philippe Lamberts.
Tweets