Philippe Lamberts
age: 54 years

European Green Party

Belgium

Co-chair of the EP Greens/EFA Group
Related to
Ranking among leaders of her/his own ...
Leader's Positon on Wholeads' Map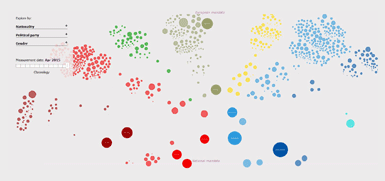 Click the image to identify a leader's position on Map
8.80
/10

7.16
/10

9.24
/10

% OF ALL SEARCHES/ MENTIONS
0.0567

Click on tabs to turn off individual graphs
Click to come back and forth on graph
Latest news about a leader
European parliament votes to end electric pulse fishing
Thursday, January 18, 2018 12:47:00 PM
Campaigners hail movement towards prohibiting the controversial practice but warn other measures will leave European waters in a worse state. Environment correspondent. Wed 17 Jan 2018 09.29 GMT First published on Tue 16 Jan 2018 16.37 GMT MEP Philippe Lamberts holds a placard to stop electric....
EU parliament calls for ban on electric pulse fishing
Thursday, January 18, 2018 06:39:00 AM
Philippe Lamberts and Ska Keller, who head the Greens bloc in the European Parliament, display a placard against pulse fishing which involves dragging electrically-charged lines just above the seabed to shock low-lying marine life into trawling nets (AFP Photo/FREDERICK FLORIN) Strasbourg (France)....
Polish MEP could lose EP vice-presidency over Nazi-era slur
Friday, January 12, 2018 05:36:00 PM
"These remarks exceed the boundaries of responsible political discourse, both on a personal and on an institutional level," they wrote. The letter was signed by the group leaders of the European People's Party (Manfred Weber), the Socialist and Democrats (Gianni Pittella), the Liberals (Guy Verhofstadt), and Greens (Philippe Lamberts).
LMP co-leader discusses EU social pillar with Green EP leader
Monday, November 27, 2017 10:36:00 PM
Bernadett Szél, co-leader of green opposition LMP , discussed the European Union's pillar of social rights and Hungary's relationship with the bloc with Philippe Lamberts, leader of the European Parliament's Greens-EFA group. The pillar of social rights "is about delivering new and more effective rights for citizens", the European Commission says.
Tweets