Philippe Lamberts
age: 57 years

European Green Party

Belgium

Co-chair of the EP Greens/EFA Group
Related to
Ranking among leaders of her/his own ...
Leader's Positon on Wholeads' Map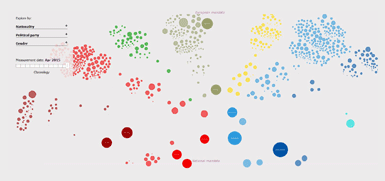 Click the image to identify a leader's position on Map
8.80
/10

7.16
/10

9.24
/10

% OF ALL SEARCHES/ MENTIONS
0.0567

Click on tabs to turn off individual graphs
Click to come back and forth on graph
Latest news about a leader
The proposal of Charles Michel fails to meet the challenges of the 21st century
Saturday, February 15, 2020 01:50:00 PM
Philippe Lamberts , Co-President of the Greens/EFA Group in the European Parliament, comments: "Should this proposal be adopted, the Green Deal will be at risk. Charles Michel's proposal fails to provide the reorientation needed to align the EU budget with the challenges of this century.
Environmental crisis requires same response as 2008 financial...
Tuesday, December 10, 2019 04:27:00 PM
World leaders must respond to the current environmental crisis in the same way they responded to the global financial meltdown of 2008, Belgian MEP Philippe Lamberts said on Tuesday. "When we had to rescue the financial system, nobody asked: 'Can we afford this? Do we have the money for it?'" Lamberts said.
Tweets
Sorry, no tweets available for this leader