Philippe Lamberts
age: 55 years

European Green Party

Belgium

Co-chair of the EP Greens/EFA Group
Related to
Ranking among leaders of her/his own ...
Leader's Positon on Wholeads' Map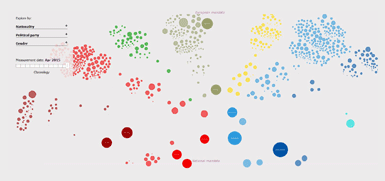 Click the image to identify a leader's position on Map
8.80
/10

7.16
/10

9.24
/10

% OF ALL SEARCHES/ MENTIONS
0.0567

Click on tabs to turn off individual graphs
Click to come back and forth on graph
Latest news about a leader
German government should stop blocking progress
Tuesday, November 13, 2018 04:35:00 PM
At the occasion of the visit of the German chancellor Angela Merkel to the European Parliament, Greens/EFA Co-Presidents Ska Keller and Philippe Lamberts call on the German Chancellor to revive the European engagement of the German government and to unblock important files in the European Council.
Commission refers Poland to ECJ over independence of Supreme Court
Monday, September 24, 2018 05:05:00 PM
On the news that the European Commission has referred Poland to the European Court of Justice over the independence of the Polish Supreme Court, Greens/EFA co-presidents Ska Keller and Philippe Lamberts comment: "A strong and independent judiciary is fundamental to the rule of law in a functioning democracy.
Czech PM Andrej Babiš and potential conflict of interest
Wednesday, September 05, 2018 07:54:00 PM
Czech PM Andrej Babi and his personal business dealings, Philippe Lamberts President of the Greens/EFA group in the European Parliament comments: EN: "If Andrej Babi is indeed the ultimate beneficial owner of a company receiving large amounts of EU funds, or if he personally benefits from them, then....
Romania: Police violence against peaceful protestors
Monday, August 13, 2018 01:34:00 AM
Following the recent events in Romania, Greens/EFA Co-Presidents Ska Keller and Philippe Lamberts comment: "The use of violence by the Romanian police against peaceful protestors is unacceptable. We stand with all those Romanians inside the country and coming from the diaspora who fight for democracy and against corruption.
Tweets