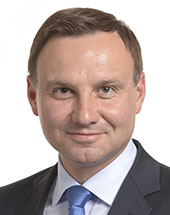 Andrzej Duda
age: 46 years

European Conservatives and Reformists

Poland

President of Poland
Related to
Ranking among leaders of her/his own ...
Leader's Positon on Wholeads' Map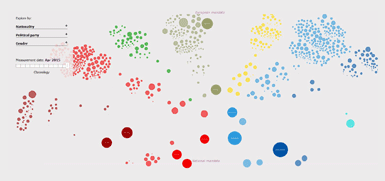 Click the image to identify a leader's position on Map
9.81
/10

9.81
/10

9.76
/10

% OF ALL SEARCHES/ MENTIONS
1.0846

Click on tabs to turn off individual graphs
Click to come back and forth on graph
Latest news about a leader
We want to repair the Union
Sunday, October 28, 2018 02:59:00 PM
Source: Republic of Poland in English. BILD am SONNTAG: Mr President, when you think of Germany, what is that comes to your mind first? ANDRZEJ DUDA: Germany is our closest neighbour. A country with a very good economic standing, a high standard of living and a rich society.
President Duda: "Nord Stream 2" would disrupt energy relations in Europe
Tuesday, October 23, 2018 07:47:00 PM
Źródło: Reuters Polish President Andrzej Duda in conversation with his German counterpart Frank-Walter Steinmeier Polish President Andrzej Duda said that there was "no place" for the Nord Stream 2 pipeline that is to transport Russian gas to Germany and saying it would disrupt "energy relations" in Europe while on a visit to Berlin on Tuesday.
France, Germany dress down Poland over court reforms
Wednesday, October 17, 2018 06:41:00 PM
France and Germany on Tuesday (16 October) condemned Poland for pressing ahead with controversial changes to its supreme court despite EU calls for restraint. Polish President Andrzej Duda last week appointed 27 new judges to the court despite an EU challenge to Warsaw's judicial reforms before the European Court of Justice.
V4 presidents say EU interfering in member states: report
Thursday, October 11, 2018 03:54:00 PM
The presidents of four regional neighbours meeting in Slovakia accused EU institutions of over-interfering in the internal policies of the bloc's member states, a top aide to the Polish head of state said on Thursday. Visegrad Group presidents including Poland's Andrzej Duda (second right) meet in Slovakia.
Tweets