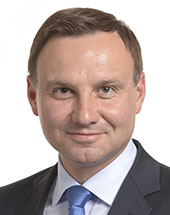 Andrzej Duda
age: 45 years

European Conservatives and Reformists

Poland

President of Poland
Related to
Ranking among leaders of her/his own ...
Leader's Positon on Wholeads' Map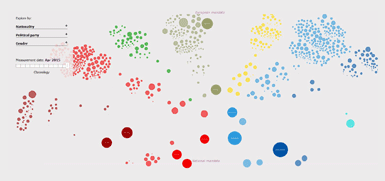 Click the image to identify a leader's position on Map
9.81
/10

9.81
/10

9.76
/10

% OF ALL SEARCHES/ MENTIONS
1.0846

Click on tabs to turn off individual graphs
Click to come back and forth on graph
Latest news about a leader
Lithuania says to support Poland in its dispute with European Commission
Saturday, February 17, 2018 06:58:00 PM
VILNIUS, Feb. 17 (Xinhua) -- Lithuania will support Poland in its dispute with the European Commission (EC) on controversial judiciary reform, Lithuanian President Dalia Grybauskaite said on Saturday following talks with her Polish counterpart Andrzej Duda.
Polish "Holocaust law" meets soft response by EU
Wednesday, February 07, 2018 05:48:00 AM
Last week the Polish parliament adopted the problematic "Holocaust law" which criminalizes certain statements on Poland's role in the Holocaust. President Andrzej Duda signed on Tuesday the law but said that he would send it to the country's Constitutional Court for judicial review, leaving open the possibility of an amendment to the law.
Poland says the EU is responsible for "social disillusionment"
Friday, January 12, 2018 07:17:00 AM
Poland's president says that the EU is partly to blame for what he called "social disillusionment" Andrzej Duda was speaking at a New Year reception for foreign ambassadors held at the presidential palace in Warsaw. He said EU institutions have been deaf to the needs of member states, pointing to....
Meet Poland's new ministers
Wednesday, January 10, 2018 02:44:00 PM
Poland's President Andrzej Duda on January 9 swore in new foreign, finance, defence, interior, health and environment ministers following a sweeping Cabinet reshuffle. The reshuffle comes just over halfway through the conservative Law and Justice (PiS) government's term in office. "It is a priority for us to build a secure and strong Poland.
Polish PM reshuffles his Cabinet ahead of key EU visit
Tuesday, January 09, 2018 04:17:00 PM
Poland's President Andrzej Duda, left, takes the oath from new Foreign Minister Jacek Czaputowicz in the government of Prime Minister Mateusz Morawiecki at the Presidential Palace in Warsaw, Poland, Tuesday, Jan. 9, 2018, just hours before Morawiecki heads off to ... By MONIKA SCISLOWSKA - Associated Press - Tuesday, January 9, 2018.
Tweets