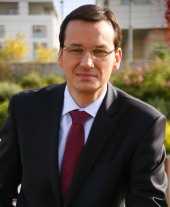 Mateusz Morawiecki
age: 51 years

European Conservatives and Reformists

Poland

Minister of Finance of Poland
Related to
Ranking among leaders of her/his own ...
Leader's Positon on Wholeads' Map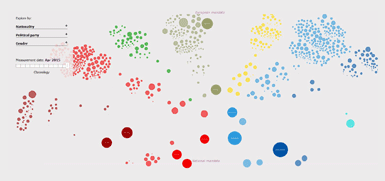 Click the image to identify a leader's position on Map
8.45
/10

8.56
/10

8.16
/10

% OF ALL SEARCHES/ MENTIONS
0.0383

Click on tabs to turn off individual graphs
Click to come back and forth on graph
Latest news about a leader
Poland Remains in the Dock over Judiciary Changes
Tuesday, January 21, 2020 02:45:00 PM
European Commission Vice President Frans Timmermans left Warsaw after his meeting with Poland's Prime Minister Mateusz Morawiecki this week without securing any concessions on planned judiciary reforms that the EU insists are against the rule of law. Timmermans re-iterated EU demands that the Poles....
French daily L'Opinion carries text praising Polish economic success
Monday, January 20, 2020 02:21:00 PM
Writing in praise of the Polish economy were President Andrzej Duda, Prime Minister Mateusz Morawiecki, Justin Yifu Lin, former vice president of the World Bank and creator of the new structural economy, Angela Guria, secretary general of the Organisation for Economic Cooperation and Development....
Russia, European Commission in war of words over WW II
Monday, January 20, 2020 12:17:00 PM
Polish Prime Minister Mateusz Morawiecki said last month that the Russian president lied about the war's history, emphasising that as time passes it's important to speak the truth. The truth, according to EU's Commissioner for Values and Transparency, Věra Jourova's account, was that Hitler-Stalin....
EK změní svou politiku vůči zemím Visegrádu, píše Die Welt
Friday, January 17, 2020 10:20:00 AM
Setkání premiérů zemí takzvané visegrádské čtyřky 16. ledna 2020 v Praze. Společné fotografování předsedů vlád V4: zleva Peter Pellegrini (Slovensko), Mateusz Morawiecki (Polsko), Andrej Babiš (ČR) a Viktor Orbán (Maďarsko). ČTK/Krumphanzl Michal. Berlín - Evropská komise vedená Ursulou von der....
Poland parliament approves controversial judges law despite warnings
Monday, December 23, 2019 12:04:00 PM
epa08083553 Polish Prime Minister Mateusz Morawiecki during the parliamentary debate on the new judiciary bill in Sejm (lower house) in Warsaw, Poland, 20 December 2019. Last week, MPs from Law and Justice (PiS) submitted a comprehensive draft amendment to provisions relating to the courts and....
Tweets
Sorry, no tweets available for this leader