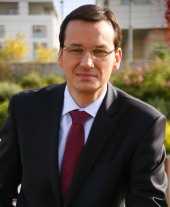 Mateusz Morawiecki
age: 51 years

European Conservatives and Reformists

Poland

Minister of Finance of Poland
Related to
Ranking among leaders of her/his own ...
Leader's Positon on Wholeads' Map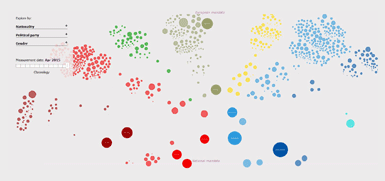 Click the image to identify a leader's position on Map
8.45
/10

8.56
/10

8.16
/10

% OF ALL SEARCHES/ MENTIONS
0.0383

Click on tabs to turn off individual graphs
Click to come back and forth on graph
Latest news about a leader
Four EU leaders express concern over EU/Mercosur farm sector deal
Friday, June 21, 2019 02:21:00 PM
The letter was addressed to EC president Jean-Claude Juncker by Macron, Irish PM Varadkar, Belgian PM Charles Michel and Polish PM Mateusz Morawiecki. French President Emmanuel Macron and three other national leaders warned the European Commission that a trade deal with trade bloc Mercosur "could....
Poland among states blocking EU's 2050 carbon neutral target: report
Friday, June 21, 2019 11:53:00 AM
Most EU member states wanted to oblige the European Commission and the EU Council to create a framework for a transformation that Europe needs to make in order to become CO2-neutral, that is, absorb the same amount of greenhouse gases it emits. Prime Minister Mateusz Morawiecki told journalists:....
Poland, Baltic states agree on power grid link-up
Thursday, June 20, 2019 10:01:00 PM
Polish Prime Minister Mateusz Morawiecki and Lithuanian President Dalia Grybauskaite during the signing of the "Political Roadmap on Implementing the Synchronisation of the Baltic States' Electricity Networks with the Continental European Network via Poland" document in Brussels on Thursday. Photo: PAP/Paweł Supernak.
Polish PM in Brussels as EU leaders haggle over top jobs
Thursday, June 20, 2019 06:32:00 PM
Poland's Prime Minister Mateusz Morawiecki arrives for a summit of European Union leaders in Brussels, Belgium, on Thursday. Photo: EPA/STEPHANIE LECOCQ. Ahead of the summit of EU leaders in the Belgian capital, Morawiecki told reporters that Poland's support for specific candidates depended on their views.
V4 leaders in Hungary to discuss top EU posts
Thursday, June 13, 2019 03:28:00 PM
Slovakian PM Peter Pellegrini, Czech PM Andrej Babis, Polish PM Mateusz Morawiecki and Hungarian PM Viktor Orban. Photo: EPA/HUNGARIAN PRIME MINISTER'S OFFICE. The four-nation Visegrad Group (V4) is a regional cooperation platform that brings together Poland, Hungary, the Czech Republic and Slovakia.
Tweets