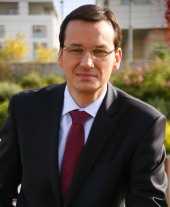 Mateusz Morawiecki
age: 51 years

European Conservatives and Reformists

Poland

Minister of Finance of Poland
Related to
Ranking among leaders of her/his own ...
Leader's Positon on Wholeads' Map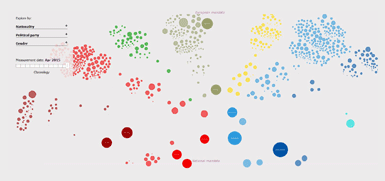 Click the image to identify a leader's position on Map
8.45
/10

8.56
/10

8.16
/10

% OF ALL SEARCHES/ MENTIONS
0.0383

Click on tabs to turn off individual graphs
Click to come back and forth on graph
Latest news about a leader
Poland nominates Krzysztof Szczerski for Commissioner
Thursday, July 25, 2019 06:41:00 PM
WARSAW, July 25 (Xinhua) -- Polish Prime Minister Mateusz Morawiecki announced on Thursday he nominated Krzysztof Szczerski, the head of the Polish President's office, to become the next Polish Commissioner. The announcement came after a bilateral meeting between Morawiecki and Ursula van der Leyen,....
Von der Leyen in Poland discusses EU commission posts, plans
Thursday, July 25, 2019 02:35:00 PM
Ursula von der Leyen, left, designated European Commission President and Poland's Prime Minister Mateusz Morawiecki, right, brief the media during a news conference in Warsaw, Poland, Thursday, July 25, 2019.(AP Photo/Czarek Sokolowski) WARSAW, Poland (AP) — European Commission President-elect....
EC president to visit Warsaw on Thursday
Tuesday, July 23, 2019 05:18:00 PM
The new President of the European Commission (EC) Ursula von der Leyen will pay a visit to Warsaw on Thursday and meet with Polish Prime Minister Mateusz Morawiecki, Polish government spokesman Piotr Muller said on Tuesday. The talks in Warsaw are expected to focus on the staffing of EC positions,....
Reuters: EU's eastern bloc ignored in top jobs deal
Thursday, July 04, 2019 08:40:00 PM
Leaders of Visegrad countries (L/R); Poland's prime minister Mateusz Morawiecki, Hungarian Prime Minister Viktor Orban, Czech Republic Prime Minister Andrej Babis, Slovakia's Prime Minister Peter Pellegrini are welcomed by European Council President Donald Tusk ahead of European Union (EU) summit at....
Tweets
Sorry, no tweets available for this leader