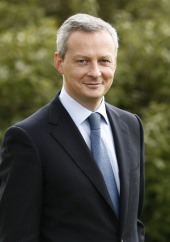 Bruno Le Maire
age: 49 years

European People's Party

France

Minister of the Economy and Finance
Related to
Ranking among leaders of her/his own ...
Leader's Positon on Wholeads' Map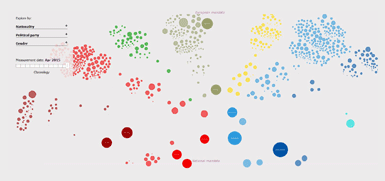 Click the image to identify a leader's position on Map
9.44
/10

9.65
/10

9.22
/10

% OF ALL SEARCHES/ MENTIONS
0.2491

Click on tabs to turn off individual graphs
Click to come back and forth on graph
Latest news about a leader
Explainer: Why Siemens-Alstom rail merger is creating tensions in Europe
Friday, January 18, 2019 02:42:00 AM
French Finance Minister Bruno Le Maire has warned the EU's executive of a grave political error if it rejects the deal. Germany's and France's Alstom agreed in 2017 to merge their rail assets, hoping to create a European industrial champion. But the EU's competition authority has doubts about the....
France's Le Maire: Blocking Alstom-Siemens merger would be a 'political mistake'
Monday, January 07, 2019 05:31:00 AM
The European Commission would be making "an economic error" and "a political mistake" by blocking a proposed Alstom-Siemens merger, French Economy Minister Bruno Le Maire said Sunday. "If the European Commission was to make an unfavorable decision regarding this merger, it would be for the wrong reasons.
France moves unilaterally on digital tax by January 1
Tuesday, December 18, 2018 05:21:00 PM
France will move unilaterally to introduce a digital tax on internet giants by January 1 Finance Minister Bruno Le Maire told journalists on December 17, only weeks after the French government first set a March deadline in order to build consensus over the need for an EU-wide digital tax.
France will impose tax on internet and tech giants
Tuesday, December 18, 2018 11:21:00 AM
France has said it will introduce its own tax on big technology firms from 1 January. French goverment won't wait on the rest of the European Union to start taxing big tech. Economy Minister Bruno Le Maire announced that France will start to impose its own tax on large internet and technology companies from January 1.
France to implement digital tax focused on US tech giants
Monday, December 17, 2018 09:50:00 PM
Following in the footsteps of the United Kingdom , France will introduce a digital tax focused on major U.S. tech firms. French Finance Minister Bruno Le Maire announced the plan in a press conference today. The tax will go into effect on Jan. 1 and is expected to raise 500 million euros, or $570 million, in 2019 alone.
Tweets