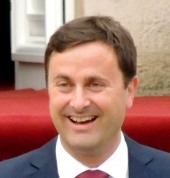 Xavier Bettel
age: 46 years

Alliance of Liberals and Democrats for Europe

Luxembourg

Prime Minister of Luxembourg
Related to
Ranking among leaders of her/his own ...
Leader's Positon on Wholeads' Map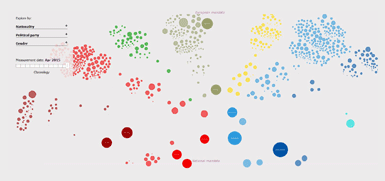 Click the image to identify a leader's position on Map
9.48
/10

9.39
/10

9.49
/10

% OF ALL SEARCHES/ MENTIONS
0.2651

Click on tabs to turn off individual graphs
Click to come back and forth on graph
Latest news about a leader
Merkel would be 'perfect' Commission president, says Bettel
Thursday, June 13, 2019 05:28:00 PM
Juncker successor Merkel would be 'perfect' Commission president, says Bettel. Bettel follows Emmanuel Macron in expressing his support for the German chancellor to lead the European Commission Luxembourg prime minister Xavier Bettel has come out as a supporter of Angela Merkel for European Commission president.
Merkel would be 'dream' EU Commission president, Luxembourg's PM says
Thursday, June 13, 2019 03:25:00 PM
German Chancellor Angela Merkel has received another glowing endorsement to be a future president of the European Commission — this time from Luxembourg. Luxembourg's Prime Minister Xavier Bettel told CNBC that Merkel would be a "dream candidate" for the presidency of Europe's executive body.
Stick to Spitzenkandidaten system, opposition says
Tuesday, May 14, 2019 06:56:00 PM
Luxembourg should respect the Spitzenkandidaten system to select the next head of the European Commission, an opposition lawmaker said, after Prime Minister Xavier Bettel called it a "stupid idea". Laurent Mosar, a member of parliament for the centre-right CSV, called for a parliamentary motion to....
EU leaders stake out positions ahead of fight to run Commission
Thursday, May 09, 2019 05:06:00 PM
Luxembourg's Xavier Bettel and French president Emmanuel Macron reject the convention that the party with the most EU Parliament seats picks the next head of the Commission Photo: AFP. European Union leaders sketched out the dividing lines over the appointment of key officials in the coming months,....
Tweets

Ana Korac retweeted
Thu Jun 27 10:21:29 +0000 2019
Prime minister @Xavier_Bettel is a true friend to Serbia, who listens to what others have to say and always has wise advice for…
ToryDEXEU retweeted
Thu Jun 27 08:59:19 +0000 2019
Secretary of State @SteveBarclay today signed a voting rights treaty alongside Prime Minister @Xavier_Bettel delivering on ou…