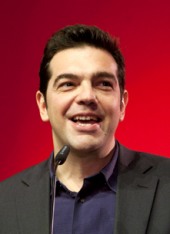 Alexis Tsipras
age: 44 years
European United Left–Nordic Green Left

Greece

Prime Minister of Greece
Related to
Ranking among leaders of her/his own ...
Leader's Positon on Wholeads' Map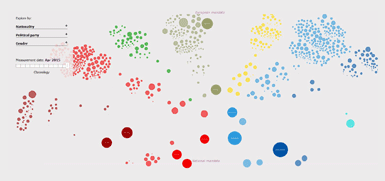 Click the image to identify a leader's position on Map
9.86
/10

9.86
/10

9.79
/10

% OF ALL SEARCHES/ MENTIONS
1.5161

Click on tabs to turn off individual graphs
Click to come back and forth on graph
Latest news about a leader
Brexit vote could 'in theory' be reversed: EU minister Moscovici
Monday, August 20, 2018 10:10:00 AM
FILE PHOTO - European Commissioner for Economic and Financial Affairs Pierre Moscovici speaks during his meeting with Greek Prime Minister Alexis Tsipras (not pictured) in the Maximos Mansion in Athens, Greece, July 3, 2018. REUTERS/Costas Baltas. August 20, 2018.
Regling in Kathimerini: First half of 2015 cost Greece 86-200 bln euros
Sunday, August 19, 2018 05:15:00 PM
I remember my relief when euro area leaders agreed with Prime Minister Alexis Tsipras on an ESM assistance package in the early morning of 12 July 2015. This formed the basis for the new programme for Greece, which euro finance ministers approved on 19 August 2015.
Eurozone bailout programme finally over
Sunday, August 19, 2018 12:14:00 PM
Image copyright Getty Images Image caption Prime Minister Alexis Tsipras says Greece is "turning a page" in ending its bailout programme. The eurozone passes an important milestone on 20 August. The date marks the formal end of the bailout of Greece. It is the final country to be receiving emergency loans in the wake of Europe's financial crisis.
Alexi, tell the Brits to learn from Yani
Friday, August 17, 2018 11:51:00 PM
We can only hope Barnier used his time more wisely and implored Prime Minister Alexis Tsipras to press upon his British counterpart Theresa May and her colleagues to learn the lessons of Greece's mistakes in early 2015. For the parallels between how his government approached negotiations with the....
Tweets