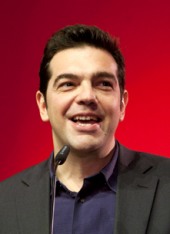 Alexis Tsipras
age: 45 years
European United Left–Nordic Green Left

Greece

Prime Minister of Greece
Related to
Ranking among leaders of her/his own ...
Leader's Positon on Wholeads' Map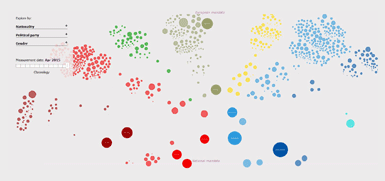 Click the image to identify a leader's position on Map
9.86
/10

9.86
/10

9.79
/10

% OF ALL SEARCHES/ MENTIONS
1.5161

Click on tabs to turn off individual graphs
Click to come back and forth on graph
Latest news about a leader
Tsipras: The EU must make a brave decision on the Balkans
Thursday, October 03, 2019 08:16:00 PM
London, 3 October 2019 (MIA) – In the next few days, the European Council will decide whether to invite North Macedonia to open formal talks to join the EU. That decision will show whether the bloc can be as courageous as the young, dynamic Balkan country that is knocking on its door, Alexis Tsipras has said.
Boris Johnson will be the Alexis Tsipras of 2019. Here's why
Monday, August 19, 2019 07:18:00 PM
Even though Boris Johnson enjoys reciting the ancient Greek tragic poets from memory, he is increasingly sounding like the Greek prime minister in 2015, Alexis Tsipras . As newly elected leaders, both politicians questioned their predecessors' deals with the European Union and resorted to populism....
Early signs of civility and consensus
Tuesday, July 23, 2019 06:09:00 PM
TAGS: Politics Despite some natural degree of skirmishing and isolated criticism, rays of civility, consensus and cooperation are breaking out across the Greek political landscape. Among the positive highlights was the civilized tone of the meeting between Alexis Tsipras and Kyriakos Mitsotakis the....
Schinas nominated as Greek commissioner
Friday, July 19, 2019 10:02:00 AM
The new conservative Greek government on Thursday nominated the European Commission's chief spokesperson Margaritis Schinas as Greece's next European commissioner. Schinas served as an MEP from 2007 to 2009 with New Democracy. The previous premier Alexis Tsipras insisted on retaining the migration....
GREEK ELECTION: Does Syriza Defeat Mark a Return to Old Politics?
Thursday, July 11, 2019 01:59:00 PM
As an era of left-wing government under Alexis Tsipras closes in Greece, can the conservative right party New Democracy renew the country's social cohesion, kick-start the economy and turn the page on years of austerity? It was foreseen, but the defeat of Alexis Tsipras' Syriza n Greece is severe.
Tweets
Sorry, no tweets available for this leader