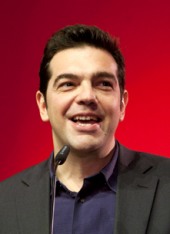 Alexis Tsipras
age: 43 years
European United Left–Nordic Green Left

Greece

Prime Minister of Greece
Related to
Ranking among leaders of her/his own ...
Leader's Positon on Wholeads' Map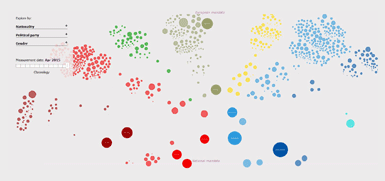 Click the image to identify a leader's position on Map
9.86
/10

9.86
/10

9.79
/10

% OF ALL SEARCHES/ MENTIONS
1.5161

Click on tabs to turn off individual graphs
Click to come back and forth on graph
Latest news about a leader
Prime Minister links assault against Boutaris to main opposition
Tuesday, May 22, 2018 09:04:00 AM
Speaking during a cabinet meeting on Monday, Greek Prime Minister Alexis Tsipras attempted to connect a lynch mob attack on Thessaloniki Mayor Yiannis Boutaris, 75, over the weekend to the main opposition New Democracy party. Tsipras said the attack brings back memories of an "age of bloody....
Greece Will Not See Fiscal Gap in 2018/19, Insists Tsipras
Monday, May 21, 2018 10:03:00 PM
Greek PM Alexis Tsipras (centre) at cabinet meeting (file photo) Prime Minister Alexis Tsipras has reportedly told the Greek cabinet the country will hit financial targets ahead, days after international creditors agreed with Athens a program of economic reforms.
Tsipras to unveil Growth Strategy in cabinet meeting
Monday, May 21, 2018 12:46:00 AM
Greek Prime Minister Alexis Tsipras will present the country's future Growth Strategy during a cabinet meeting he is scheduled to chair on Monday. The Strategy will come into force in the post-bailout era, with the Greek bailout program set to be concluded in August 2018.
Zoran Zaev: Macedonia says agrees 'acceptable' deal with Greece in name row
Thursday, May 17, 2018 10:51:00 PM
Macedonian Prime Minister Zoran Zaev said Thursday he has agreed with his Greek counterpart Alexis Tsipras on a solution to ending a long-running name row between the two neighbours. "We were discussing many options and we agreed on one that is acceptable for both sides," Zaev told reporters after....
Zaev repeats commitment to NATO, EU accession before meeting
Thursday, May 17, 2018 11:38:00 AM
The prime minister of the Former Yugoslav Republic of Macedonia (FYROM), Zoran Zaev, stressed on Wednesday that his country remains committed to NATO and European Union membership. His comments came ahead of his crucial meeting on Thursday in Sofia with his Greek counterpart Alexis Tsipras over the name dispute between the two countries.
Tweets