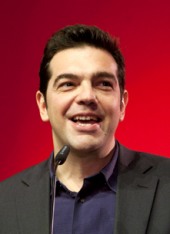 Alexis Tsipras
age: 44 years
European United Left–Nordic Green Left

Greece

Prime Minister of Greece
Related to
Ranking among leaders of her/his own ...
Leader's Positon on Wholeads' Map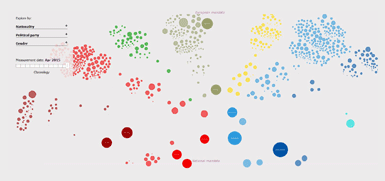 Click the image to identify a leader's position on Map
9.86
/10

9.86
/10

9.79
/10

% OF ALL SEARCHES/ MENTIONS
1.5161

Click on tabs to turn off individual graphs
Click to come back and forth on graph
Latest news about a leader
Government mulls cuts to public investment program
Monday, November 12, 2018 12:13:00 AM
The tense political rhetoric from both the government and the opposition is expected to intensify further over the coming weeks in the wake of Prime Minister Alexis Tsipras's pledges for handouts and hirings, and reports that authorities are planning cuts elsewhere to keep the budget on track.
PM Tsipras in Paris for the centenary of World War I armistice
Sunday, November 11, 2018 11:55:00 AM
Prime Minister Alexis Tsipras is in Paris to participate in the celebrations for the 100 years since the end of the World War I. The programme of the Greek Prime Minister starts in the morning with his participation in the anniversary celebrations and ends in the afternoon with the speech he will address to the Paris Peace Forum.
Athens steadfast in commitment to avoid January pension cuts
Friday, November 09, 2018 09:44:00 AM
Speaking in parliament on Thursday, Prime Minister Alexis Tsipras appeared certain that the latest pension cuts legislated to take effect as of January 2019 will not go ahead. The issue is still being discussed with Greece's Eurozone partners and is thought to be dependent on the primary surplus targets set in Greece's budget being met.
Popular measures in pipeline
Saturday, November 03, 2018 06:04:00 PM
The government is planning to submit to Parliament the first batch of handouts and tax discounts based on Prime Minister Alexis Tsipras's announcements at the Thessaloniki International Fair in September, with an eye on next year's general election. The Finance Ministry has completed the preparatory....
Tweets