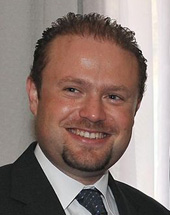 Joseph Muscat
age: 44 years

Party of European Socialists

Malta

Prime Minister of Malta
Related to
Ranking among leaders of her/his own ...
Leader's Positon on Wholeads' Map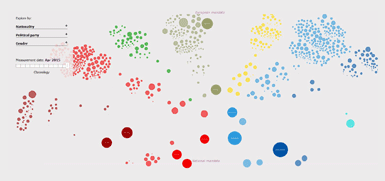 Click the image to identify a leader's position on Map
9.73
/10

9.71
/10

9.69
/10

% OF ALL SEARCHES/ MENTIONS
0.7122

Click on tabs to turn off individual graphs
Click to come back and forth on graph
Latest news about a leader
Prime Minister Joseph Muscat in favour of multi-speed approach for the EU
Friday, February 16, 2018 06:54:00 PM
He mentioned the EU debate regarding defence. "We opted to stay out for now, but why should we prevent France, Italy and others from moving ahead in defence cooperation just because we have a neutrality clause? We should not. We should make out priorities heard, but not stop others from working together.
Malta's tenth year in Eurozone – PM in favour of European Monetary Fund
Friday, February 16, 2018 06:43:00 PM
Prime Minister Joseph Muscat declared that Malta supports the establishment of a European Monetary Fund that would intervene in cases where a country within the Eurozone finds itself in financial difficulties. Dr Muscat was speaking during a business breakfast organised by the Institute of....
Malta generates 518 million euros with citizenship by investment scheme
Thursday, January 25, 2018 12:02:00 PM
Malta has generated 518 million euros since it started its citizenship by investment scheme, according to Prime Minister Joseph Muscat. Replying to a parliamentary question on Wednesday, Muscat said that of the total revenue generated, 363 million euros had entered in the country's National Development and Social Fund.
Southern EU countries urge completion of economic, monetary, banking union
Thursday, January 11, 2018 04:35:00 AM
Greek Prime Minister Alexis Tsipras, Spanish Prime Minister Mariano Rajoy, Cyprus President Nicos Anastasiades, Italian Prime Minister Paolo Gentiloni, French President Emmanuel Macron, Maltese Prime Minister Joseph Muscat and Portuguese Prime Minister Antonio Costa (L to R) attend a joint press....
Looking at 2018 | What will Joseph Muscat do next?
Tuesday, January 02, 2018 11:02:00 AM
Last June, a few days after the Labour Party was re-elected in government with an emphatic victory, Prime Minister Joseph Muscat declared that the election just won would be his last. While the news caught many by surprise, it was not the first suggestion that Muscat might exit the local political scene sooner rather than later.
Tweets