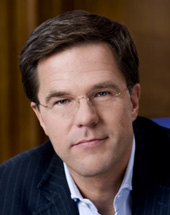 Mark Rutte
age: 51 years

Alliance of Liberals and Democrats for Europe
Netherlands

Prime Minister of the Netherlands
Related to
Ranking among leaders of her/his own ...
Leader's Positon on Wholeads' Map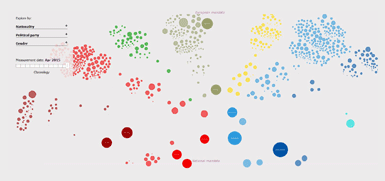 Click the image to identify a leader's position on Map
9.83
/10

9.83
/10

9.82
/10

% OF ALL SEARCHES/ MENTIONS
1.2592

Click on tabs to turn off individual graphs
Click to come back and forth on graph
Latest news about a leader
Dutch ex-premier Lubbers dies Ruud Lubbers, the Netherlands' longest serving prime minister, has died aged 78. Lubbers also headed the UN refugee agency on a symbolic $1 salary, and, in 1991, hosted the EU's formative Maastricht summit.
Wednesday, February 14, 2018 09:58:00 PM
Lubbers, a conservative who argued for "more market, less government" and a closer European Union, passed away on Wednesday in his home city of Rotterdam, the Dutch government announced. No cause of death was given. Dutch Prime Minister Mark Rutte said the Netherlands had "lost a statesman with huge....
Longest-serving Dutch premier, Ruud Lubbers, dies at 78
Wednesday, February 14, 2018 08:27:00 PM
Prime Minister Mark Rutte hailed Lubbers as a statesman who dragged the Netherlands through tough economic times. "With his broad knowledge and experience and his tireless creativity, he knew how to find a solution for every problem," Rutte said on Facebook.
Maria Gabriel: There is no Reason For not Accepting Bulgaria in Schengen
Friday, February 09, 2018 12:22:00 PM
''There is no reason for not accepting Bulgaria in Schengen, but we know that the decision is taken unanimously.'' This was said by EU Commissioner Gabriel Gabriel. A few days ago, Dutch Prime Minister Mark Rutte stressed that his country supports us for entering Schengen Area , but there is still an incomplete work in Bulgaria.
Rutte pours cold water on Bulgaria's Schengen and Eurozone dreams
Wednesday, February 07, 2018 09:43:00 AM
On a visit to Sofia yesterday (6 February) Dutch Prime Minister Mark Rutte poured cold water on his host's ambition to unlock Bulgaria's bid to join the EU border-free Schengen area, and said the country needed also more work to cover the criteria for joining the Eurozone.
Tweets