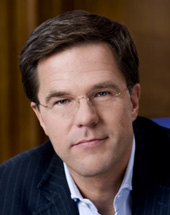 Mark Rutte
age: 53 years

Alliance of Liberals and Democrats for Europe
Netherlands

Prime Minister of the Netherlands
Related to
Ranking among leaders of her/his own ...
Leader's Positon on Wholeads' Map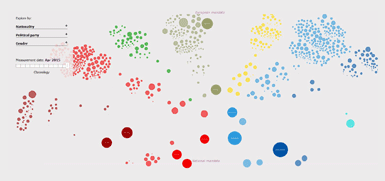 Click the image to identify a leader's position on Map
9.83
/10

9.83
/10

9.82
/10

% OF ALL SEARCHES/ MENTIONS
1.2592

Click on tabs to turn off individual graphs
Click to come back and forth on graph
Latest news about a leader
Rutte calls for Europe to co-operate on Covid-19 as number of cases hits 18
Monday, March 02, 2020 04:32:00 PM
Prime minister Mark Rutte has called for greater European co-operation to tackle the spread of Covid-19, while acknowledging that synchronising different national healthcare systems would be a difficult task. In his first public statement since the virus, also known as coronavirus, was detected in....
Unwillingness to swallow bitter pill of higher EU budget share 'shocking'
Thursday, February 27, 2020 12:47:00 AM
It was a political masterclass to watch Dutch prime minister Mark Rutte switch roles at last week's EU budget talks, from the ever-reliable neighbour and ally of German chancellor, Angela Merkel , to the intransigent leader of the Frugal Four whose behaviour she panned as "childish". Despite domestic pressures, Rutte's EU credentials are flawless.
Merkel was irritated by 'childish Rutte' at EU summit: Volkskrant
Tuesday, February 25, 2020 11:40:00 AM
German chancellor Angela Merkel described Dutch prime minister Mark Rutte as displaying 'childish behaviour' at last week's failed EU meeting to draw up a new budget for the 27-member organisation, the reported on Tuesday. The Netherlands, Denmark, Sweden and Austria have formed a four-country....
Hopes dim for EU budget deal
Friday, February 21, 2020 04:14:00 PM
European Commission President Ursula von der Leyen, and European Council President Charles Michel, speak with Austrian Chancellor Sebastian Kurz, Dutch Prime Minister Mark Rutte, Swedish Prime Minister Stefan Lofven and Danish Prime Minister Mette Frederiksen during a meeting on the sidelines of an EU summit in Brussels, February 20, 2020.
Tweets
Sorry, no tweets available for this leader