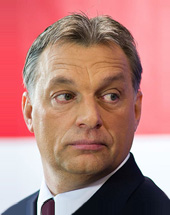 Viktor Orban
age: 56 years

European People's Party

Hungary

Prime Minister of Hungary
Related to
Ranking among leaders of her/his own ...
Leader's Positon on Wholeads' Map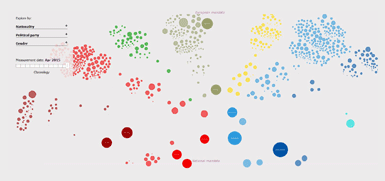 Click the image to identify a leader's position on Map
9.85
/10

9.91
/10

9.70
/10

% OF ALL SEARCHES/ MENTIONS
1.4672

Click on tabs to turn off individual graphs
Click to come back and forth on graph
Latest news about a leader
Johnson urges support for Brexit deal before knife-edge vote LONDON (AP) — Boris Johnson worked behind the scenes Friday to win enough support to push his new Brexit deal through the fractious British Parliament and pave the way for Britain — finally — to
Saturday, October 19, 2019 05:37:00 AM
© Provided by The Associated Press British Prime Minister Boris Johnson, second right, speaks with Irish Prime Minister Leo Varadkar, right, and Hungarian Prime Minister Viktor Orban, center, during a round table meeting at an EU summit in Brussels, Thursday, Oct. 17, 2019.
Orbán in Azerbaijan: Hungary can offer Turkic Council bridgehead to Europe
Tuesday, October 15, 2019 03:54:00 PM
Hungary can offer the Turkic Council a bridgehead to Europe and the European Union, Prime Minister Viktor Orbán said in Baku on Tuesday. Addressing the 7th Turkic Council summit, Orbán said Hungary was fighting to get the enlargement and neighborhood policy portfolio in the new European Commission.
Orbán on Macron: 'Highly Respected Leader with Vision'
Friday, October 11, 2019 11:42:00 PM
Hungarian Prime Minister Viktor Orbán called for unity and cooperation between the eastern and western member states of the European Union ahead of a working lunch with French President Emmanuel Macron in Paris on Friday. At a joint press conference with Macron in the garden of the Elysee Palace,....
Orban and Aung San Suu Kyi Gave in to Hate the Same Way Foreign Policy
Friday, October 11, 2019 10:51:00 PM
Aung San Suu Kyi was awarded the Nobel Peace Prize in 1991 for her pro-democracy activism and her resilience in advocating for the cause of democracy in the face of terrible repression by the socialist military junta of Myanmar. Around the same time, a young Viktor Orban was feted as one of Europe's....
Tweets
Sorry, no tweets available for this leader