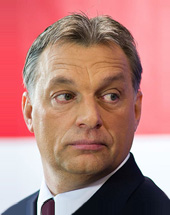 Viktor Orban
age: 56 years

European People's Party

Hungary

Prime Minister of Hungary
Related to
Ranking among leaders of her/his own ...
Leader's Positon on Wholeads' Map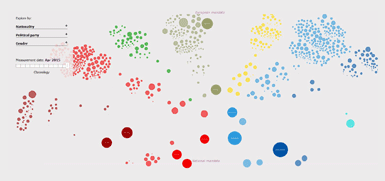 Click the image to identify a leader's position on Map
9.85
/10

9.91
/10

9.70
/10

% OF ALL SEARCHES/ MENTIONS
1.4672

Click on tabs to turn off individual graphs
Click to come back and forth on graph
Latest news about a leader
Orban Says His Party May Leave EU's Conservative Bloc
Tuesday, January 21, 2020 10:46:00 AM
Viktor Orban, the Prime Minister of Hungary, said that Fidesz, his nationalist political party, could leave Europe's main conservative alliance due to an ongoing row about the party's aggressive anti-EU election campaigning. With the 2019 European elections being a few short weeks away, the....
Hungary's Fidesz "inch away" from leaving EPP: Orban
Friday, January 17, 2020 08:36:00 PM
BUDAPEST, Jan. 17 (Xinhua) -- Hungary's Prime Minister Viktor Orban is seriously considering pulling his Fidesz party out of the European People's Party (EPP), the largest group in the European Parliament (EP), he said in his regular Friday morning interview on public radio MR1.
Fidesz an inch away from exiting EPP, Orbán says
Friday, January 17, 2020 11:08:00 AM
Fidesz was an inch away from quitting the European People's Party on Thursday after the majority of the party group "betrayed us", Prime Minister Viktor Orbán said in his Friday morning radio interview. The majority of EPP MEPs voted to support a resolution regarding Article 7 proceedings against....
EK změní svou politiku vůči zemím Visegrádu, píše Die Welt
Friday, January 17, 2020 10:20:00 AM
Setkání premiérů zemí takzvané visegrádské čtyřky 16. ledna 2020 v Praze. Společné fotografování předsedů vlád V4: zleva Peter Pellegrini (Slovensko), Mateusz Morawiecki (Polsko), Andrej Babiš (ČR) a Viktor Orbán (Maďarsko). ČTK/Krumphanzl Michal. Berlín - Evropská komise vedená Ursulou von der....
EU Court Criticizes Hungary's Attack on Foreign-Funded NGOs
Tuesday, January 14, 2020 06:56:00 PM
(Bloomberg) -- Hungarian Prime Minister Viktor Orban suffered a setback in his clash with the European Union over democratic norms as an adviser to the bloc's highest court slammed his crackdown on foreign-funded groups. A controversial Hungarian law "introduces unjustified restrictions" on....
Tweets
Sorry, no tweets available for this leader