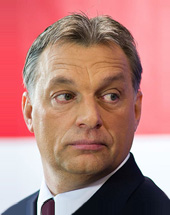 Viktor Orban
age: 55 years

European People's Party

Hungary

Prime Minister of Hungary
Related to
Ranking among leaders of her/his own ...
Leader's Positon on Wholeads' Map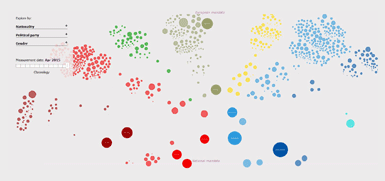 Click the image to identify a leader's position on Map
9.85
/10

9.91
/10

9.70
/10

% OF ALL SEARCHES/ MENTIONS
1.4672

Click on tabs to turn off individual graphs
Click to come back and forth on graph
Latest news about a leader
A legitimating moment for European bigotry?
Saturday, May 18, 2019 07:18:00 PM
The legitimating moment for European bigotry occurred when Hungarian Prime Minister Viktor Orban was received by US President Donald Trump at the White House and given a fulsome endorsement. Orban, said Trump, is "respected all over Europe. Probably, like me, a little bit controversial but that's OK.
Fidesz's EP Elections: Migration, Soros and an Outstanding Chance of Victory
Saturday, May 18, 2019 08:06:00 AM
Viktor Orbán officially kicked-off Fidesz's campaign on April 5. The party's program focuses exclusively on migration, Soros and EU criticism. Pollsters and analysts agree Fidesz will win the most votes by far. In fact, some even believe the party could win two-thirds of the seats in the European Parliament election.
EPP's Weber does not regret his stance on Orban
Friday, May 17, 2019 10:14:00 AM
, the Spitzenkandidat of the centre-right European People's Party (EPP) Manfred Weber said he did not regret having maintained a position favourable to talking with Hungarian PM Viktor Orban. Orban's Fidesz party was suspended but not expelled from the EPP last March due to lack of respect for the party's values.
As U.S. democracy trembles, I'm headed to Europe to view populist nationalist gains there | Trudy Rubin
Thursday, May 16, 2019 11:18:00 PM
His goal, after being dumped by Trump, was to organize an alliance of Europe's far-right parties, headlined by Italy's Matteo Salvini, France's Marine Le Pen, and Hungary's proudly illiberal autocrat, Viktor Orban. Bannon hasn't done very well. Although those leaders posed with him, they don't seem....
Head of PM's Office: Hungary has good ties with all leading world powers
Thursday, May 16, 2019 10:55:00 PM
Addressing a regular press briefing on Thursday, Gergely Gulyás, the head of the Prime Minister's Office, hailed this week's meeting between Prime Minister Viktor Orbán and US President Donald Trump as "an outstanding diplomatic achievement", adding that Hungary had "balanced, good ties" with all leading world powers.
Tweets