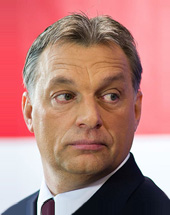 Viktor Orban
age: 54 years

European People's Party

Hungary

Prime Minister of Hungary
Related to
Ranking among leaders of her/his own ...
Leader's Positon on Wholeads' Map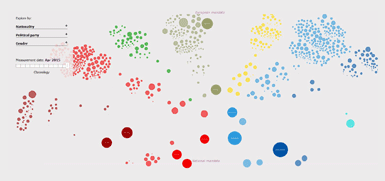 Click the image to identify a leader's position on Map
9.85
/10

9.91
/10

9.70
/10

% OF ALL SEARCHES/ MENTIONS
1.4672

Click on tabs to turn off individual graphs
Click to come back and forth on graph
Latest news about a leader
EU-W Balkans summit in Sofia – Orbán meets conservative party leaders
Thursday, May 17, 2018 10:48:00 PM
Prime Minister Viktor Orbán has discussed topical European affairs at bilateral talks with leaders of three conservative parties that are members of the European People's Party (EPP) together with his Fidesz party, Orban's spokesman said on Wednesday. Orbán, who is in Sofia to attend an EU-Western....
Viktor Orban's visit to Warsaw showcased an illiberal alliance
Thursday, May 17, 2018 07:57:00 PM
A BIT of Polish doggerel from the 18th century, when Polish and Hungarian nobles fought together against the Russian empire, maintains that Poles and Hungarians are "brothers, both of the sword and of the [wine] glass". The Hungarians have a similar rhyme.
Viktor Orbán's majority can't be a blank check
Wednesday, May 16, 2018 06:45:00 PM
Scholars often point to a core assumption of contemporary populism—a unitary and homogeneous conception of the "people." This premise allows populist leaders to conflate their popular support with unanimity, as though the plurality or majority they enjoy were equivalent to Jean-Jacques Rousseau's equally fictional "general will.
Cvijić for POLITICO: Balkan nations are watching Orban establishing a one-party state
Wednesday, May 16, 2018 05:38:00 PM
BRUSSELS – After the repressive regime of Slobodan Milosević in the 1990s, a group of opposition, independent journalists and dissidents went to Hungary, where they primarily received protection from the government of Viktor Orban and encouragement to continue working on democratic changes at home –....
Italy government deal should be ready on Wednesday, League leader Salvini promises
Wednesday, May 16, 2018 05:02:00 PM
Salvini, eurosceptic leader of the nationalist League and ally of the likes of Hungary Prime Minister Viktor Orban, has been locked in talks to reach a coalition government agreement with Five Star head Luigi Di Maio and bring an end to over two months of political deadlock following inconclusive elections.
Tweets