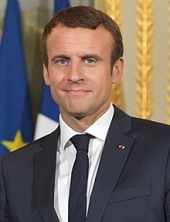 Emmanuel Macron
age: 40 years

Alliance of Liberals and Democrats for Europe

France

President of France
Related to
Ranking among leaders of her/his own ...
Leader's Positon on Wholeads' Map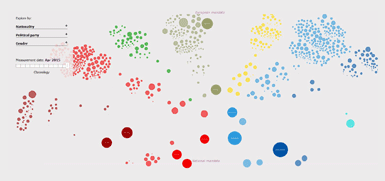 Click the image to identify a leader's position on Map
10.00
/10

10.00
/10

9.98
/10

% OF ALL SEARCHES/ MENTIONS
8.1661

Click on tabs to turn off individual graphs
Click to come back and forth on graph
Latest news about a leader
Europe Can't Get Its Stories Straight
Monday, February 19, 2018 03:23:00 PM
The European Union can act in unison at times -- for example, on Russia sanctions or, at least so far, on Brexit. But as French President Emmanuel Macron and German Chancellor Angela Merkel try for a closer union in the next few years, they will need to be mindful of the fact that there is no single....
French jobs market turns corner, but skills mismatch a concern
Monday, February 19, 2018 08:43:00 AM
France's unemployment rate dropped below nine per cent for the first time since 2009, adding weight to efforts by President Emmanuel Macron to liberalise a rigid labour market that remains hamstrung by a skills mismatch. The rate fell to 8.9 per cent in the fourth quarter of last year from 9.
Macron's Biggest Battle Is With Voter Skepticism
Friday, February 16, 2018 06:40:00 PM
When Emmanuel Macron was elected French president, the conventional wisdom was that he'd only survive if his policies brought tangible economic growth. So here's the paradox Macron faces this year: While growth is picking up and many other economic indicators are finally turning positive, his critics have become more numerous.
Macron to invite 1,000 'young' French farmers to the Elysée as tensions build
Friday, February 16, 2018 01:02:00 PM
Around 1,000 'young' French farmers are set to descend on the Elysee Palace at the invitation of French President Emmanuel Macron next week as tensions between France's farming community and the government build. But the meeting could prove to be a tense one, with farmers currently up in arms over....
Juncker jabs at Macron as EU jobs race heats up
Thursday, February 15, 2018 05:37:00 AM
BRUSSELS (Reuters) - European Commission chief Jean-Claude Juncker chided French President Emmanuel Macron on Wednesday for failing to form clear Europe-wide party political alliances, as manoeuvring warms up over next year's EU parliament elections. Ahead of a summit of European Union leaders on Feb.
Tweets