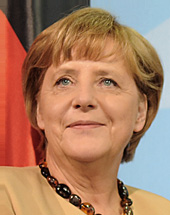 Angela Merkel
age: 64 years

European People's Party

Germany

Chancellor of Germany
Related to
Ranking among leaders of her/his own ...
Leader's Positon on Wholeads' Map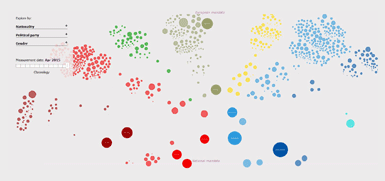 Click the image to identify a leader's position on Map
9.98
/10

9.98
/10

10.00
/10

% OF ALL SEARCHES/ MENTIONS
7.0299

Click on tabs to turn off individual graphs
Click to come back and forth on graph
Latest news about a leader
Europe already has an 'army', and it's never even been in a fight
Friday, November 16, 2018 09:25:00 PM
Ms Westermann says former German chancellor Helmut Kohl, former French prime minister Alain Juppe, EU Commission president Jean-Claude Juncker, French president Emmanuel Macron and German Chancellor Angela Merkel have all called for or supported the idea of an EU army in the past.
Trans-Europe Express – Few ideas, many grievances
Friday, November 16, 2018 01:03:00 PM
Angela Merkel's speech on the future of Europe this week produced a few ideas. But even though observers had hoped to hear a new game plan for Europe's mounting challenges, expectations fell short. At least altercations between Parliament and Commission officials were not in short supply.
Germany is reserved about the idea of border correction between Kosovo and Serbia
Friday, November 16, 2018 09:34:00 AM
The head of the Commission for European Affairs at the German Bundestag, Gunther Krichbaum has declared that Germany is reserved about the idea of territorial swaps between Kosovo and Serbia. The German official, which is also known as being close to Chancellor Angela Merkel said after a meeting....
Merkel Snubs Trump's View of EU as 'Foe', Says US – German Friendship 'under Pressure'
Friday, November 16, 2018 02:22:00 AM
German Chancellor Angela Merkel has rejected US President Donald Trump's perplexing notion of the EU as a "foe" to America because of its trade policies. Earlier this week, Trump named the European Union when asked to identify his "biggest foe globally right now" in an interview with "CBS Evening News" in Scotland.
Merkel Tries Not to Go Out With a Bang
Friday, November 16, 2018 02:13:00 AM
(Bloomberg Opinion) -- It could have been a call for decisive action by a leader no longer tethered by domestic politics. But German Chancellor Angela Merkel's appearance at the European Parliament on Tuesday was nothing of the sort: Merkel unbound is the same cautious, gradualist Merkel.
Tweets