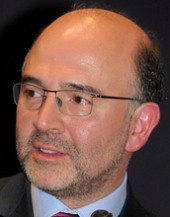 Pierre Moscovici
age: 60 years

Party of European Socialists

France

EC Commissioner for Economic and Financial Affairs - Taxation and Customs
Related to
Ranking among leaders of her/his own ...
Leader's Positon on Wholeads' Map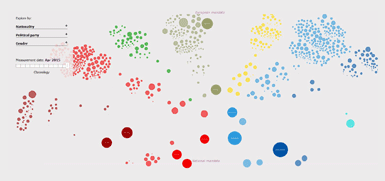 Click the image to identify a leader's position on Map
9.70
/10

9.69
/10

9.72
/10

% OF ALL SEARCHES/ MENTIONS
0.6541

Click on tabs to turn off individual graphs
Click to come back and forth on graph
Latest news about a leader
Moscovici: Greece should not relive the same tragedy
Monday, May 21, 2018 11:09:00 AM
Economic and Financial Affairs Commissioner Pierre Moscovici, in an exclusive interview with To Vima, outlines the four difficult preconditions for Greece to exit the bailout programme, as well as the supervisory framework that will be set up thereafter. He stresses that all the reforms agreed to with creditors must be implemented.
Pierre Moscovici: EU and Greece reach agreement on latest bailout review
Sunday, May 20, 2018 05:57:00 PM
Greece's creditors have agreed a programme of reforms as the country's third and final bailout comes to an end, the European Commission said Saturday. Athens was rescued three times by European and international creditors, preventing the country from crashing out of the Euro.
Rights for citizens, duties for firms under new EU data rules
Monday, May 14, 2018 08:59:00 AM
European Commissioner for Economic and Financial Affairs, Taxation and Customs Pierre Moscovici addresses a press conference at the European Union in Brussels on March 21, 2018. PHOTO | EMMANUEL DUNAND | AFP In Summary. For companies, the regulations is not one-size-fits-all.
EXCHANGES - ESA
Tuesday, May 08, 2018 01:11:00 AM
Jean-Claude JUNCKER, President of the EC, receives Josef ACKERMANN, former CEO ... Ref: I-155020 Date: 07/05/2018. LIVE EC Midday press briefing of 04/05/2018 Ref: I-154499 Date: 04/05/2018. EC press conference by Commissioner Pierre MOSCOVICI on the Spring 2018 ... Ref: I-154743 Date: 03/05/2018.
EU says protectionism poses threat to economic growth
Sunday, May 06, 2018 05:36:00 AM
European Commissioner for Economic and Financial Affairs Pierre Moscovici presents the EU executive's spring economic forecasts during a news conference at the EU Commission headquarters in Brussels, Belgium May 3, 2018. [Photo/Agencies] BRUSSELS - The European Commission said on Thursday that the....
Tweets

Sat May 19 08:14:13 +0000 2018
Pinned to That what up on @Pinterest: Revista presei. Întreținuții din Parlament - ZIUA VECHE ZIUA VECHE Revista pr… https://t.co/XhOGf7tTzu

Sat May 19 07:01:20 +0000 2018
Eduardo Rihan Cypel – Européennes: «Ça pourrait être Pierre Moscovici» pour le PS https://t.co/tKmfGmQTzi
karelber retweeted
Fri May 18 19:48:38 +0000 2018
Le Handelsblatt, quotidien éco allemand, désigne le roi des «fainéants» européens: Pierre Moscovici 🇩🇪 https://t.co/N2uA…