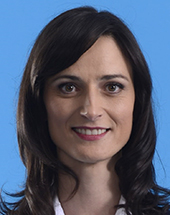 Mariya Gabriel
age: 39 years

European People's Party
Bulgaria

Commissioner - Digital Economy and Society
Related to
Ranking among leaders of her/his own ...
Leader's Positon on Wholeads' Map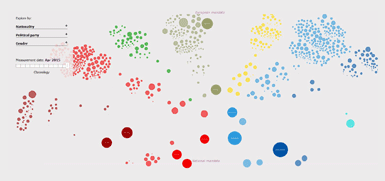 Click the image to identify a leader's position on Map
9.02
/10

7.77
/10

9.42
/10

% OF ALL SEARCHES/ MENTIONS
0.0868

Click on tabs to turn off individual graphs
Click to come back and forth on graph
Latest news about a leader
Commissioner to work with Naughton towards EU regulation of social media
Tuesday, December 11, 2018 04:03:00 PM
The EU Commissioner for Digital Economy and Society has agreed to work with Fine Gael TD Hildegarde Naughton towards regulating social media with EU-wide legislation. Commissioner Mariya Gabriel has also asked Deputy Naughton to act as the link between the Commission and Grand International Committee on Disinformation and Fake News.
Mariya Gabriel will Present the Project "Evening of the European Cinema"
Tuesday, December 04, 2018 07:34:00 PM
Mariya Gabriel, EU Commissioner for European Digitization, Cyber ​​Security and Copyright, will personally present "European Cinema Evening", a first edition of a project created on the initiative of the Creative Europe - MEDIA Program, which provides access to over 7000 European citizens and is....
The Spanish SME Compassis Wins the Disruptors Awards 2018
Monday, December 03, 2018 01:53:00 PM
The I4MS Disruptors Awards aims to illustrate SMEs' ability to innovate and implement ICT technologies. The ceremony took place during the Digital Innovation Hubs Annual Event with the presence of the Polish Ministry of Technology, Jadwiga Emilewicz, and Commissioner for Digital Economy and Society, Mariya Gabriel.
Chairman of CoM to attend the Meeting organized by Sebastian Kurz Tomorrow
Sunday, November 18, 2018 01:31:00 PM
Chairman of Bosnia and Herzegovina's Council of Ministers Denis Zvizdic will attend on Monday a working meeting organized by Prime Minister of Austria Sebastian Kurz with Prime Ministers of Southeast Europe and European Commissioners Johannes Hahn and Mariya Gabriel. The meeting will begin at 08:00 a.
European Digital Economy and Society Commissioner Opens Startup Europe Summit
Saturday, November 17, 2018 05:07:00 AM
105 POLITICS - CONFERENCE - STARTUP SUMMIT - amplified European Digital Economy and Society Commissioner Opens Startup Europe Summit Sofia, November 15 (BTA) - European Digital Economy and Society Commissioner Mariya Gabriel opened the fourth Startup Europe Summit here on Thursday.
Tweets