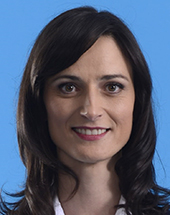 Mariya Gabriel
age: 39 years

European People's Party
Bulgaria

Commissioner - Digital Economy and Society
Related to
Ranking among leaders of her/his own ...
Leader's Positon on Wholeads' Map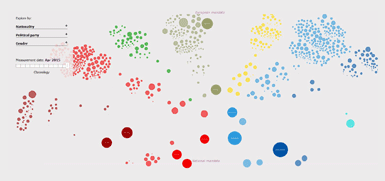 Click the image to identify a leader's position on Map
9.02
/10

7.77
/10

9.42
/10

% OF ALL SEARCHES/ MENTIONS
0.0868

Click on tabs to turn off individual graphs
Click to come back and forth on graph
Latest news about a leader
Answering the challenges of 5G and AI
Friday, November 09, 2018 02:13:00 PM
Photo credit: Press Association The digital revolution is happening now and Europe is under pressure to keep up with the pace of technological change. That was the key message from European Commissioner Mariya Gabriel, as she opened this year's FT-ETNO Summit in Brussels last month.
Mariya Gabriel
Tuesday, October 30, 2018 06:40:00 AM
As part of the Commission's commitment to transparency, Commissioners and their members of Cabinet publish information on meetings held with organisations or self-employed individuals. In line with the Commission's Code of Conduct for Members of the Commission, each Commissioner publishes a Declaration of Interests.
Energy industry raises concerns over EU data protection ambitions
Thursday, October 25, 2018 07:01:00 PM
In an open letter to Norbert Hofer, Austria's Minister for Transport, Innovation and Technology, Mariya Gabriela, European Commissioner for Digital Economy and Society, and Miguel Arias Cañete, European Commissioner for Climate Action and Energy, a coalition of European trade associations comprising....
Shaping competition policy in the era of digitisation
Wednesday, October 24, 2018 03:15:00 PM
Registration. Registration will open on this page on 12 November 2018. This event is free Topics Competition, Data and Artificial Intelligence; Digital Platforms' Market Power; Preserving Digital Innovation Speakers Margrethe Vestager, EU Competition Commissioner; Mariya Gabriel, EU Commissioner for....
European Commissioner Mariya Gabriel outlines new European film initiative
Wednesday, October 24, 2018 02:02:00 PM
Today European movies struggle to cross borders, face stiff competition from the US and now have to contend with big digital players on the market. Though a struggle, it's not a losing battle. At a special Charlie Chaplin exhibition at the festival we meet with the European Commissioner for the Digital Economy and Society, Mariya Gabriel.
Tweets