Johannes Hahn
age: 62 years

European People's Party

Austria

EC Commissioner (Neighbourhood policy and enlargement negotiations)
Related to
Ranking among leaders of her/his own ...
Leader's Positon on Wholeads' Map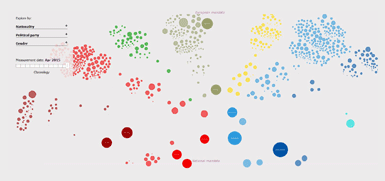 Click the image to identify a leader's position on Map
9.75
/10

9.63
/10

9.85
/10

% OF ALL SEARCHES/ MENTIONS
0.7849

Click on tabs to turn off individual graphs
Click to come back and forth on graph
Latest news about a leader
European Commission boosts budget for repatriation flights and rescEU stockpile
Friday, March 27, 2020 02:47:00 PM
The European Commission proposed on March 27 to make 75 million euro from the EU budget available to help member states repatriate EU nationals and to increase the budget of the RescEU medical stockpile, the Commission said. European Commissioner Johannes Hahn, in charge of the EU budget, said:....
Alexander Lukashenko meets with European Commissioner Johannes Hahn
Tuesday, March 10, 2020 02:40:00 PM
The basis of Belarus' partnership with the EU is trade and economic relations. This idea of President Alexander Lukashenko was uttered at the meeting with European Commissioner for European Neighborhood Policy and Enlargement Negotiations Johannes Hahn.
Carpenter speaks to The Daily Beast on Lukashenko's Ukraine policy
Tuesday, February 11, 2020 08:43:00 PM
On April 11, the Eurasia Center, together with the European Commission, hosted a public event on the occasion of the visit of Commissioner Johannes Hahn and the tenth anniversary of the EU Eastern Partnership. The Eastern Partnership is a joint initiative involving the European Union, its Member....
Tweets
Sorry, no tweets available for this leader