Johannes Hahn
age: 62 years

European People's Party

Austria

EC Commissioner (Neighbourhood policy and enlargement negotiations)
Related to
Ranking among leaders of her/his own ...
Leader's Positon on Wholeads' Map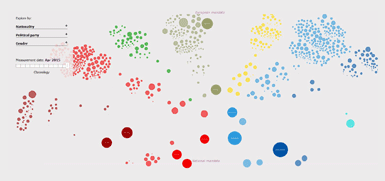 Click the image to identify a leader's position on Map
9.75
/10

9.63
/10

9.85
/10

% OF ALL SEARCHES/ MENTIONS
0.7849

Click on tabs to turn off individual graphs
Click to come back and forth on graph
Latest news about a leader
Enlargement Will Never Be the Same Again
Saturday, December 21, 2019 06:40:00 AM
One of the much anticipated hearings of candidates for European Commissioners was that of Johannes Hahn (Austria) who is bound for a second term. Jean-Claude Juncker entrusted him with a very important portfolio that provoked very strong emotions and debates - European Neighbourhood Policy and Enlargement Negotiations.
Federal Councillor Ignazio Cassis meets EU Commissioner Johannes Hahn
Friday, December 20, 2019 04:01:00 PM
. Bern, 18.12.2019 - The head of the Federal Department of Foreign Affairs (FDFA), Federal Councillor Ignazio Cassis, met today with EU Commissioner Johannes Hahn in Zurich for a brief discussion that focused on Swiss-EU relations. Both ministers are keen to expand on this exchange of views as soon as possible.
MSC Core Group Meeting to be held in Minsk for the first time today
Thursday, December 05, 2019 11:44:00 PM
The large-scale event will be attended by government leaders and politicians from all over Europe. The meeting will be attended by OSCE Secretary General Thomas Greminger, as well as the European Commissioner for Enlargement and Neighborhood Policy Johannes Hahn.
Greens/EFA request public access
Monday, December 02, 2019 07:22:00 PM
In a letter to EU-Commissioner Johannes Hahn, Mikulá Peksa , Greens/EFA Member of the Czech Pirates, on behalf of the Greens/EFA in the European Parliament calls to publish the European Commissions audit report immediately regarding the investigation against Czech Prime Minister Andrej Babi on conflict of interest.
High Representative Valentin Inzko congratulates Johannes Hahn
Saturday, November 23, 2019 10:40:00 AM
High Representative Valentin Inzko attended the European People's Party (EPP) Congress which took place this week in Zagreb. On the margins of the Congress, the High Representative held several meetings and congratulated the new European Commissioner for Budget and Administration, Johannes Hahn, on his election as the new EPP Vice President.
Tweets
Sorry, no tweets available for this leader